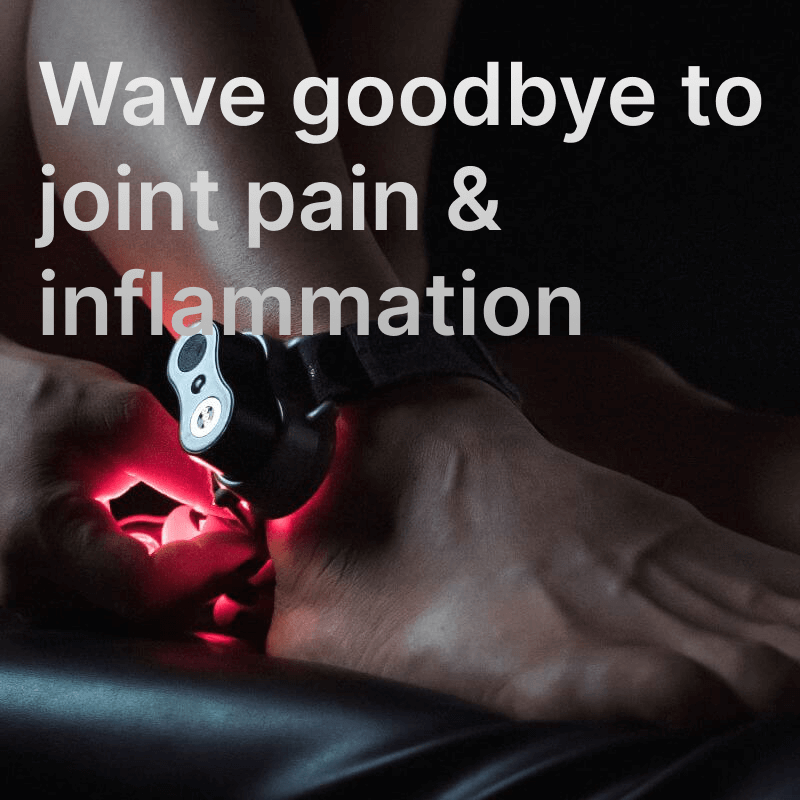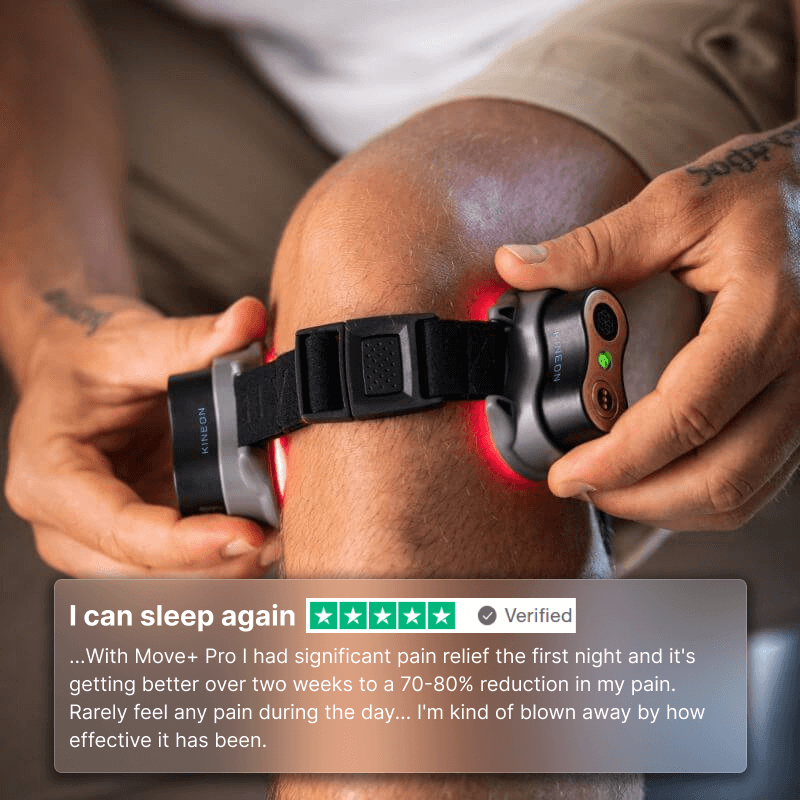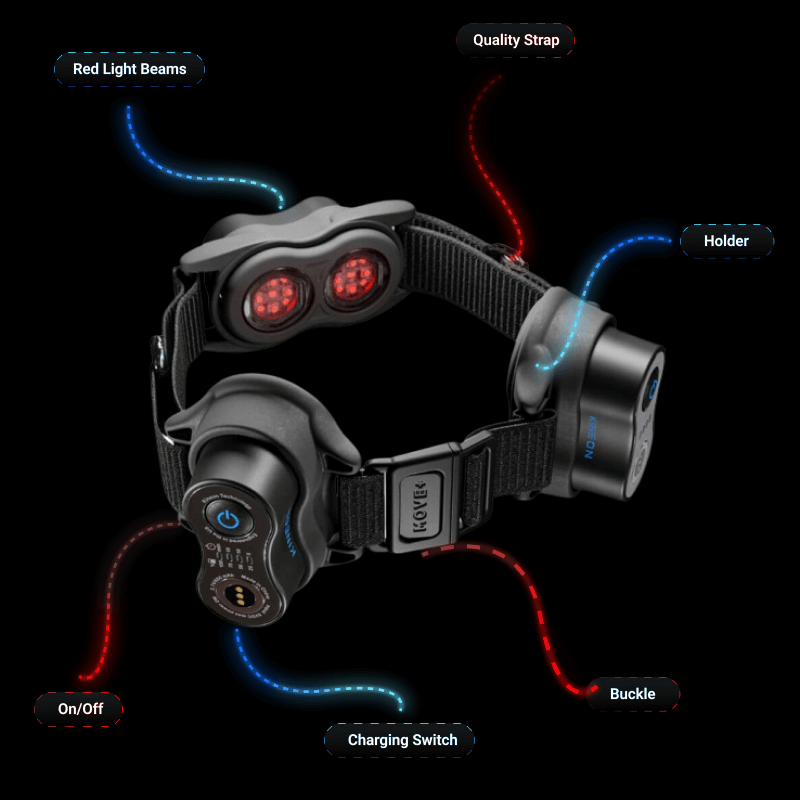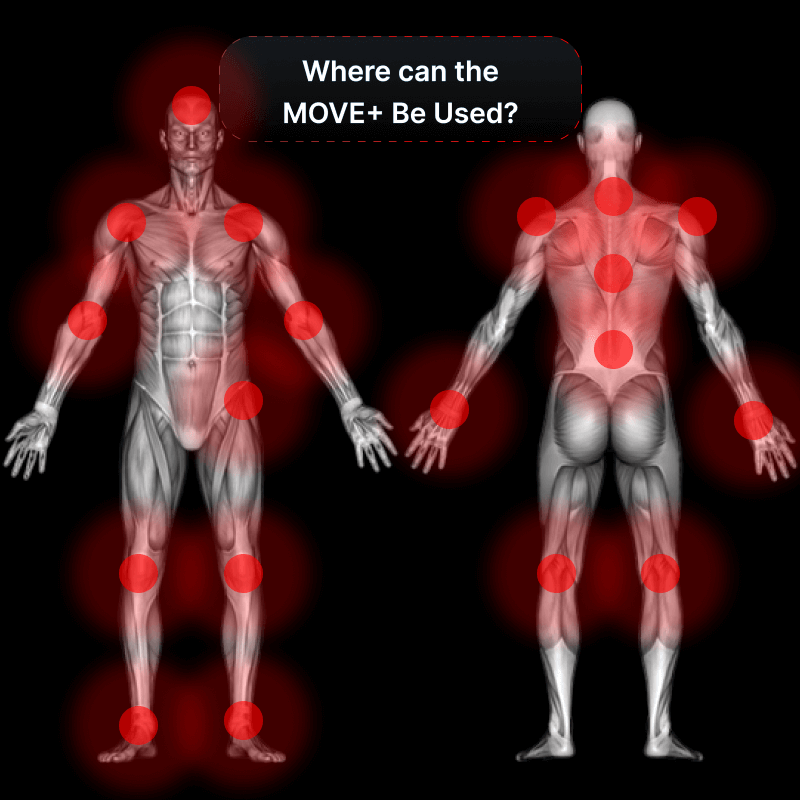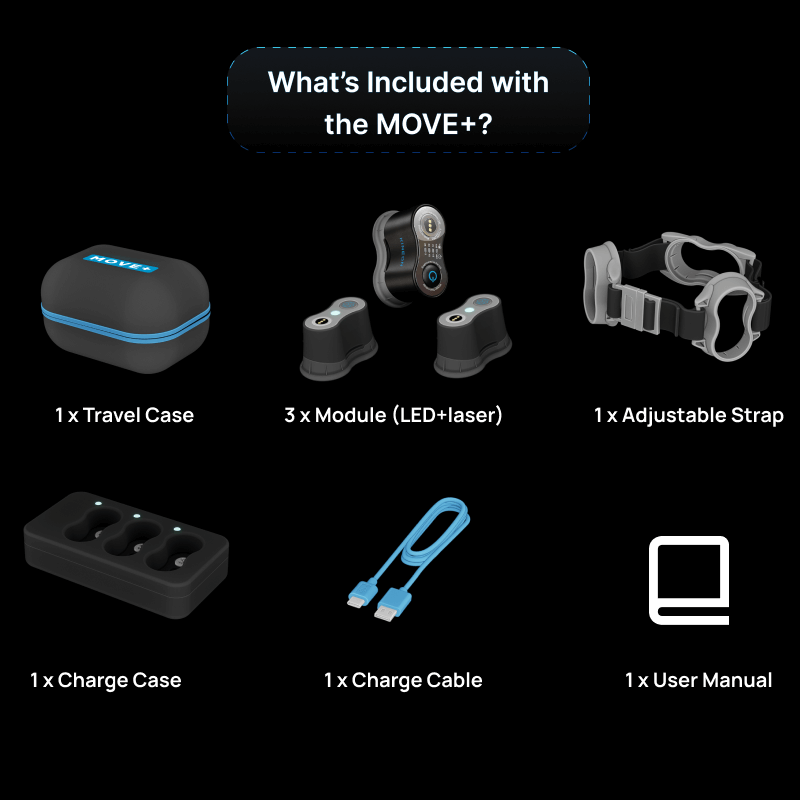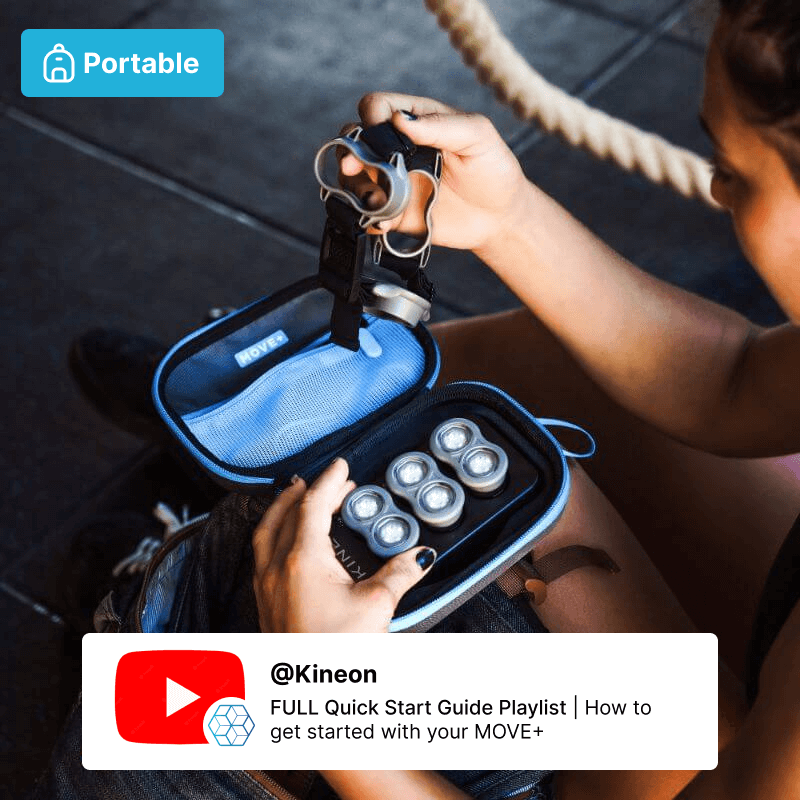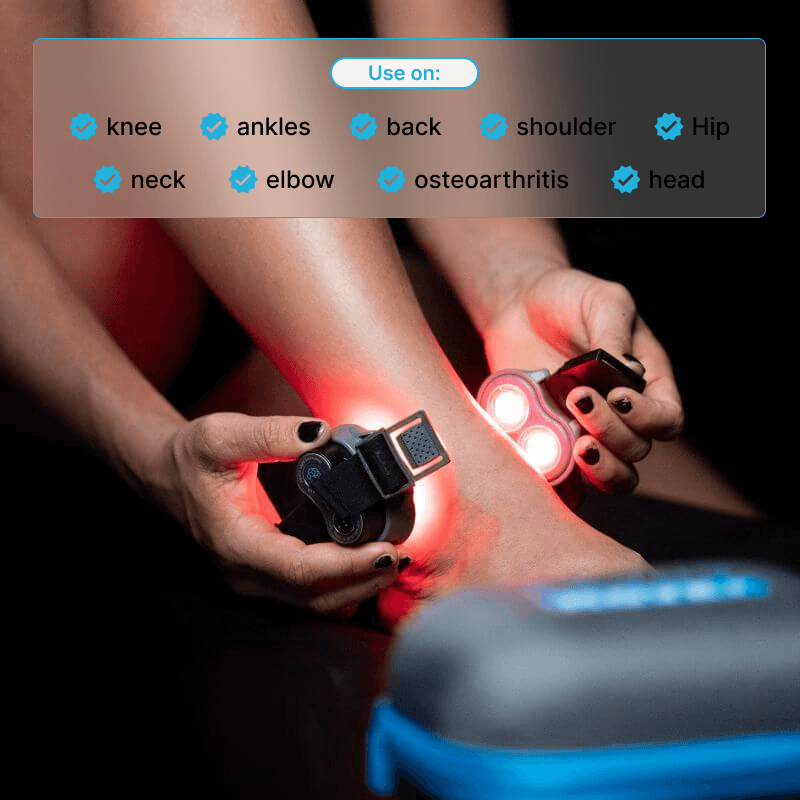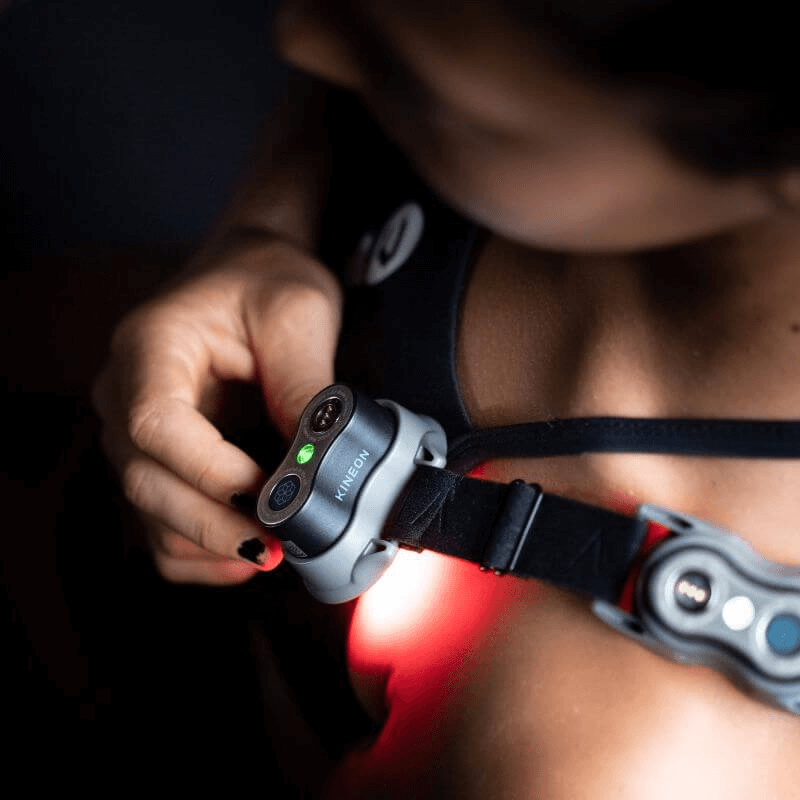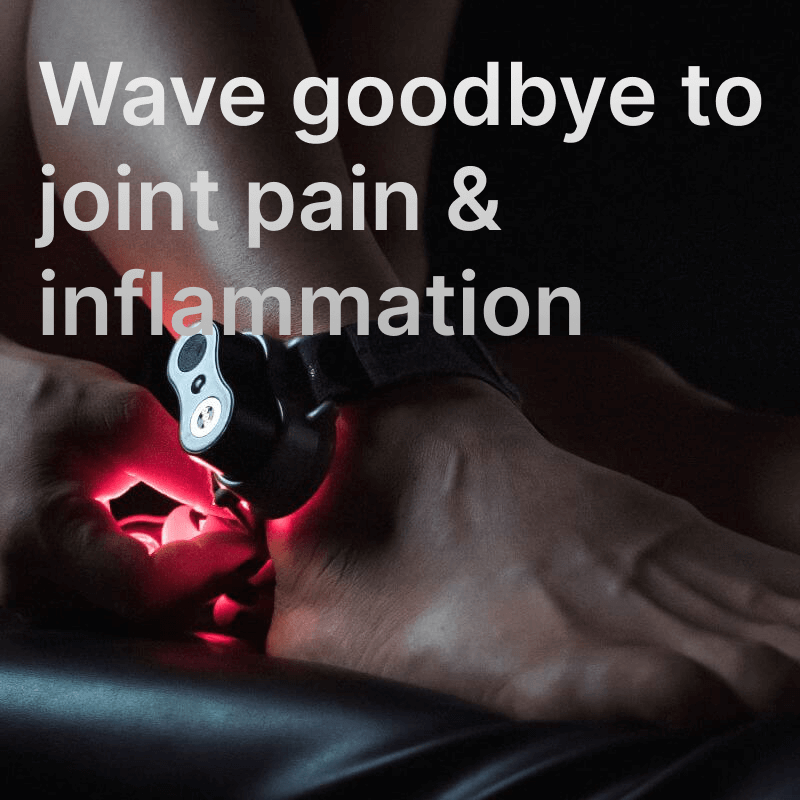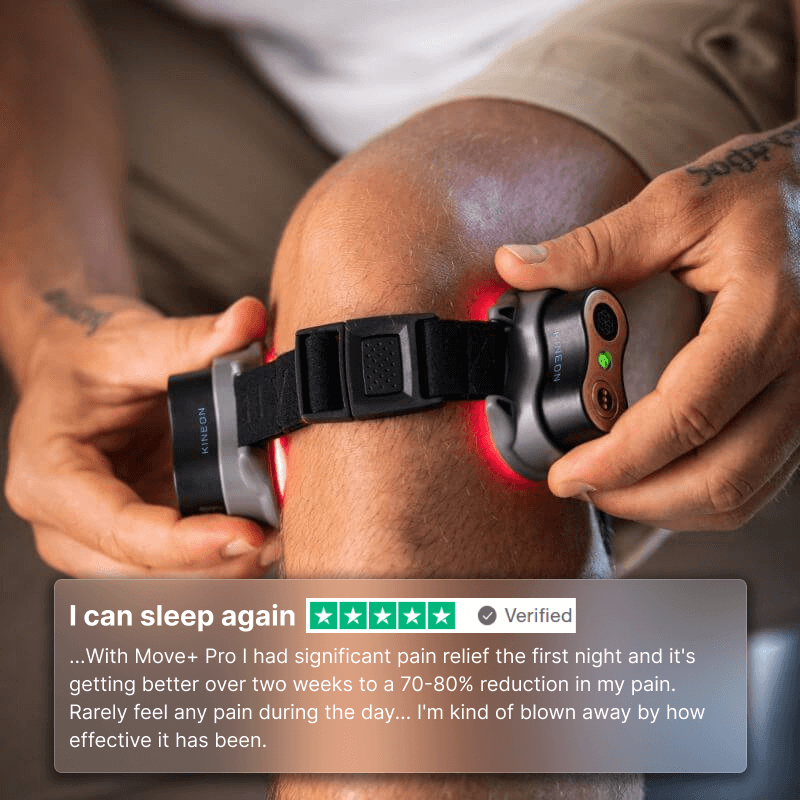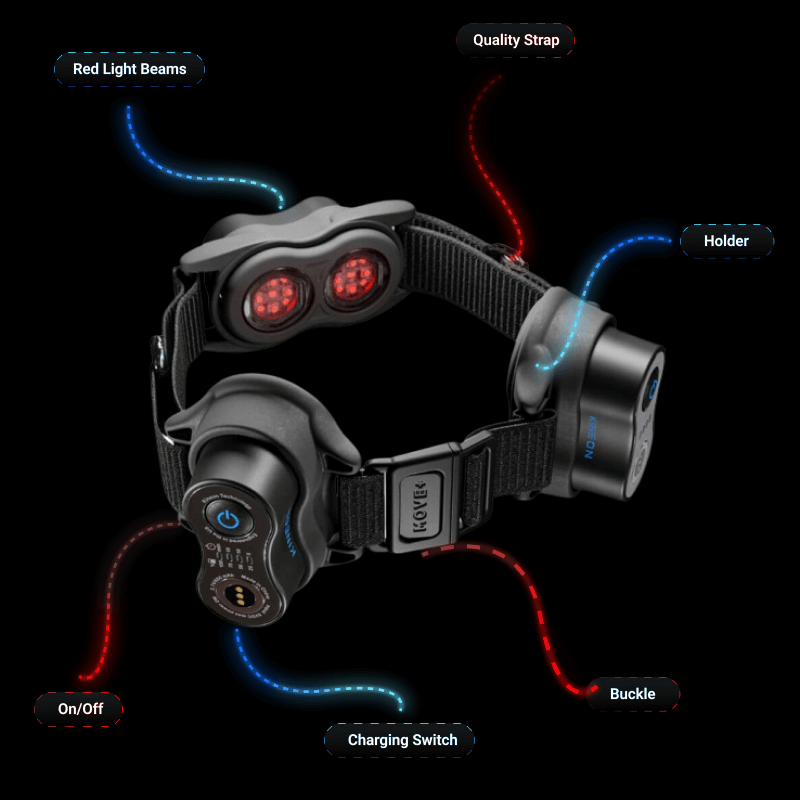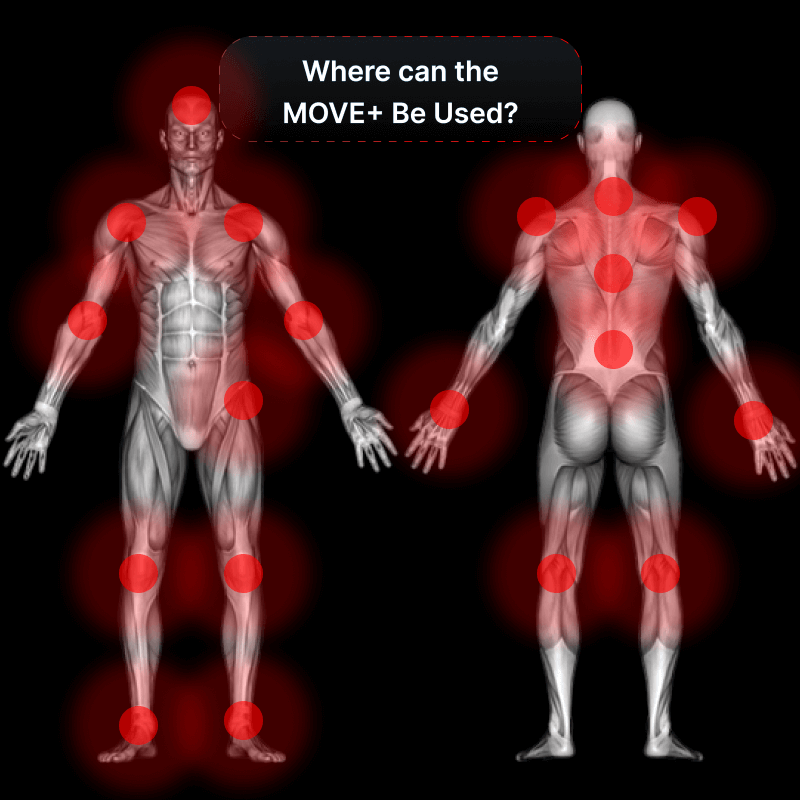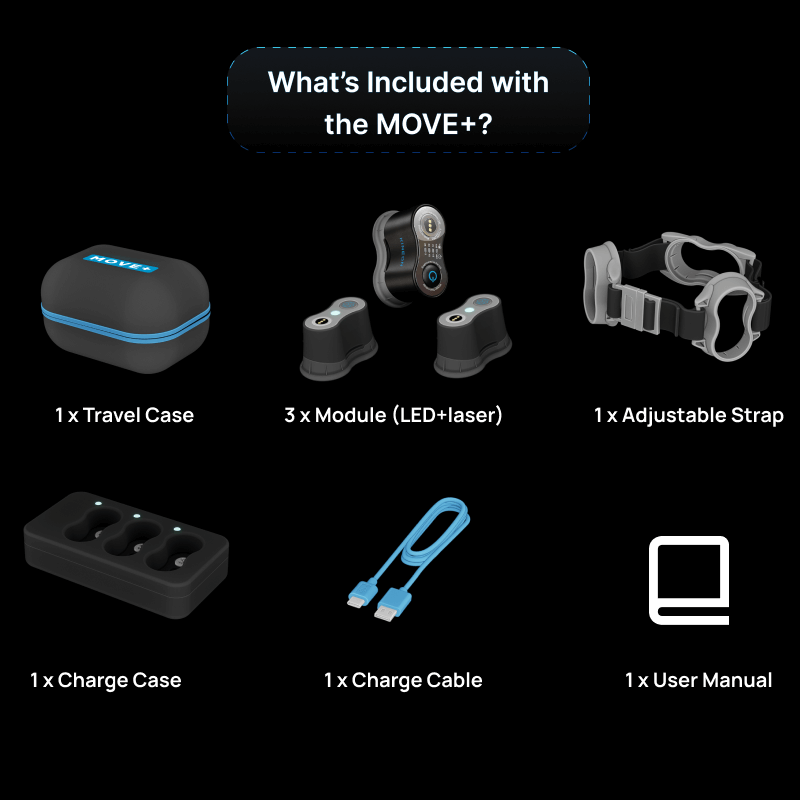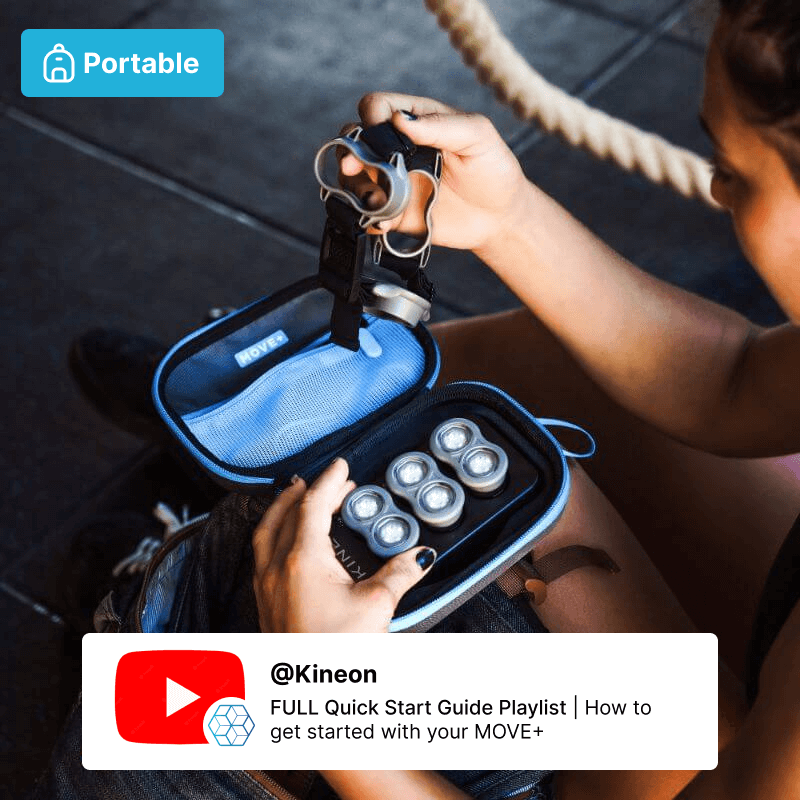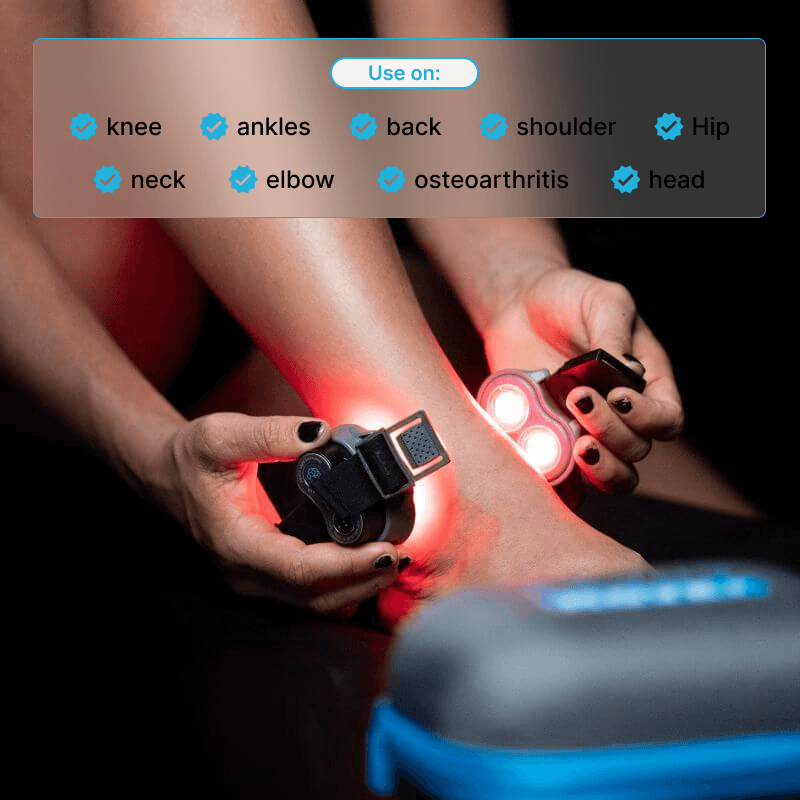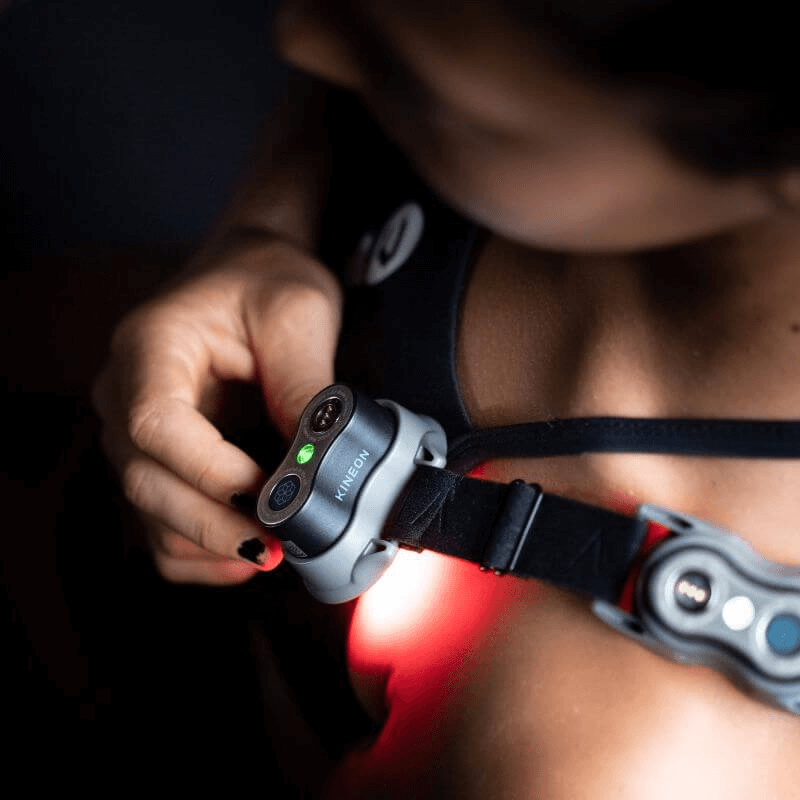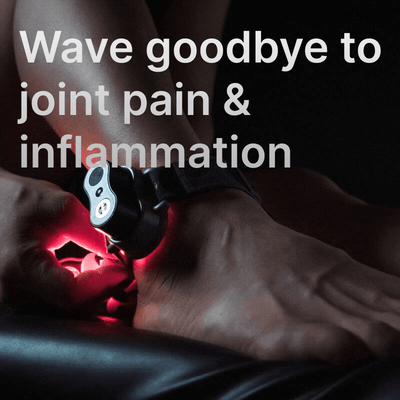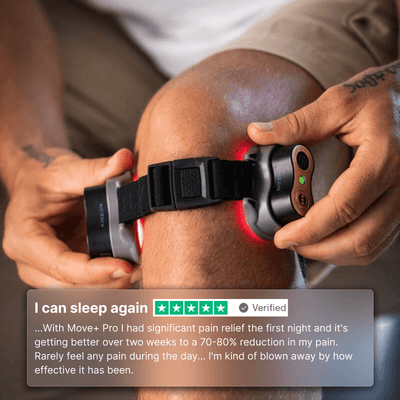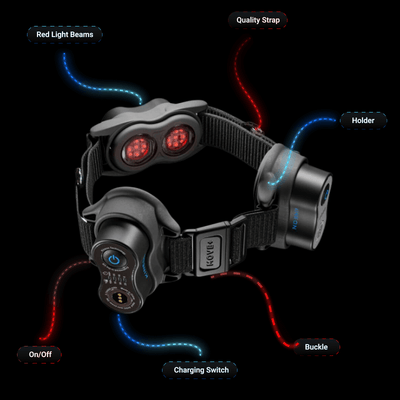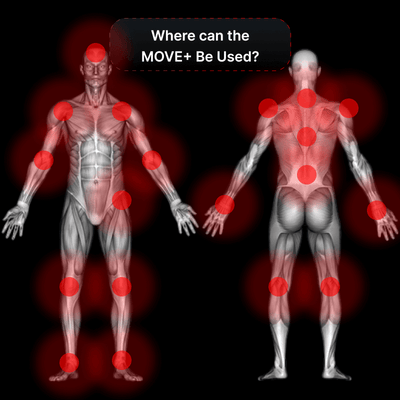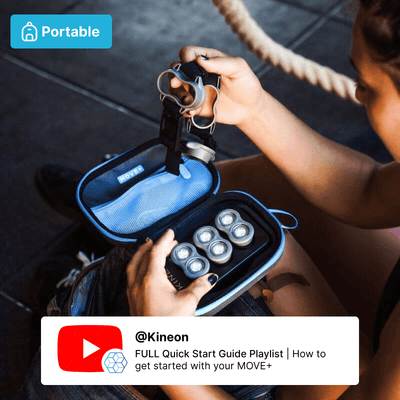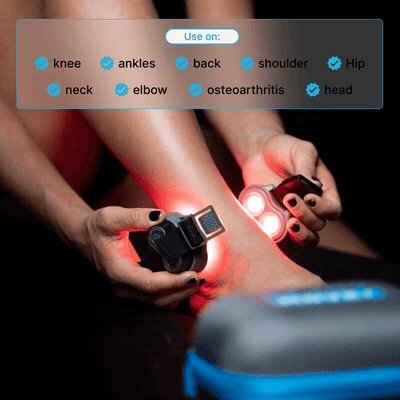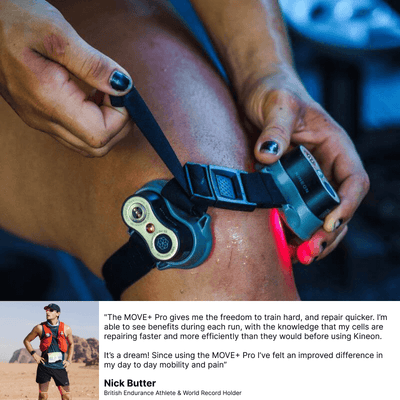 Clinical level pain relief from $47/month
Money-back guarantee
30-day at-home trial
1 year warranty included with every device
What's your 30-day free trial policy?
If you're not completely satisfied with the results after 30 days of continuous treatment, we will offer you a refund or further guidance.

All we ask is that you use the MOVE+ Pro consistently for 5-15 minutes per day over 4 weeks. If there is still no improvement, just get in touch with our friendly support team and we will arrange your refund.
How long does a treatment take?
We recommend using the device consistently for 5 - 15 minutes per day for optimal results.

Consistency is key with this. So doing a short treatment every day will be more effective than doing longer sessions more sporadically.
Most customers see results in 1-2 weeks on average, but some notice the difference even after just one session!
For areas with less tissue and blood flow, such as wrists and ankles, it may take slightly longer to see results (3-4 weeks).
Can I use this on any part of my body?
The MOVE+ Pro can be used on any part of the body! We have seen great results from our customers using the device on their knees, shoulder, back, hip, ankles, wrists..you name it!
What kind of pain can the MOVE+ help with?
The MOVE+ can help treat a huge variety of acute and chronic issues.

Laser therapy has proven results for...

Osteoarthritis
Rheumatoid arthritis⁠
Chronic pain
Inflammation
Cartilage damage
Wound healing/recovery
Acute injuries (MCL, ACL)
Tendinitis⁠
Carpal tunnel
Fibromyalgia
Osgood Schlatter Gout
Tennis/golfer's elbow
Recovery after surgery
Anxiety & depression
Gut issues⁠ and much more...
Red light therapy works by stimulating blood flow and energy production (ATP) in the cells of the targeted area.

This reduces pain and inflammation, and triggers the healing process to help damaged tissues repair themselves.

The main difference between the MOVE+ and other red light therapy panels are that the MOVE+ uses lasers to penetrate deeper into the joint, with accurate dosing to achieve more effective results.
Is this device backed by science?
Yes! Clinical research has exploded over the last 5 years, with over 6,000 scientific studies showing the positive impact of using PBM (red light therapy).
How is it different to other devices?
It's crucial to ensure the correct light characteristics to optimize results.

The technology of the MOVE+ has been based off hundreds of successful clinical trials to ensure only the most effective wavelengths, dosage and components are used.

The use of both LED lights and medical-grade laser technology can offer targeted relief to your joints by increasing blood flow and energy production (ATP) in the cells of the targeted area.

This reduces pain and inflammation, and triggers the healing process to help damaged tissues repair themselves.
Yes! For the United States it typically takes 3-4 days (and a little longer for Canada).

For the Rest of World it can take 8-14 days depending on location (including Europe & the UK).
See our support page for more information.
Here are some of the tech specs of the MOVE+:

WAVELENGTH
8 x 650nm deep red LEDs per module
10 x 808nm Infrared lasers per module

OPTICAL POWER
Infrared lasers (class 1): 5mW per laser diode, 50mW per module
Deep red LEDs: 80mW per emission area

Read more on our technical specs page.
Frequently Asked Questions
Have you got questions about the MOVE+ Pro? We've got answers!
Recover like a professional athlete
The MOVE+ Pro is loved by some of the world's top athletes. The device has helped them recover faster, reduce pain and inflammation, and offer treatments on-the-go.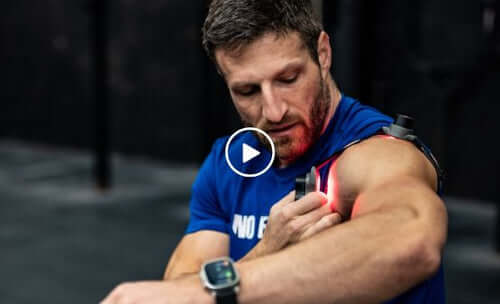 "I used the device every day for the past few weeks and I'm seeing incredible results. The MOVE+ has become an essential part of my recovery toolkit."
Michael Kummer
Former professional 100m sprinter, CrossFitter, Biohacker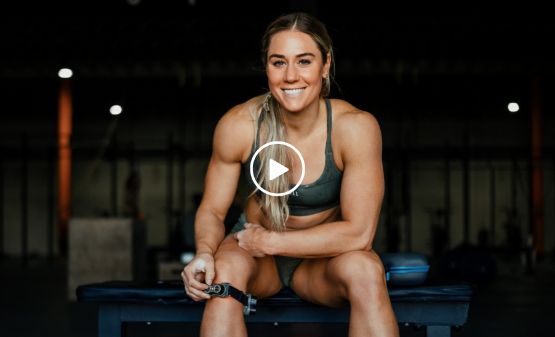 "The MOVE+ has been very helpful in my healing and recovery process and to help with the demand I put my body through on a daily basis training for the CrossFit Games. I have minor tendonitis in my knee, and have seen huge improvements. This device is going to be a game changer in this sport."
Brooke Wells
8 x CrossFit Games Athlete
Words of relief from our cutomers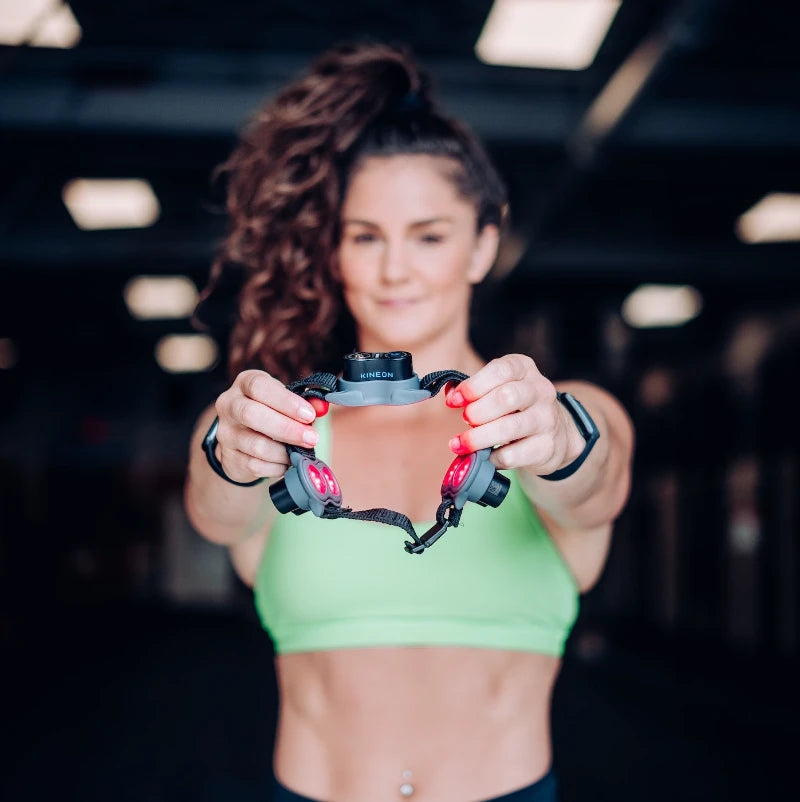 Testimonial
"The MOVE+ Pro is a phenomenal tool that allows me to train hard and recover faster. As someone training 4+ hours a day in preparation for the CrossFit Games and working full-time, it is difficult to manage nagging aches and pains with a hectic schedule.

I love that I can use my MOVE+ Pro on the go and easily incorporate it into my daily routine. I've noticed improvements in my overall pain and mobility since I started using it."
Kelly Stone
Doctor of Physical Therapy & 2 x CrossFit Games Athlete
Recover
The MOVE+ Pro decreases inflammation and stimulates collagen production.
Repair
Infrared penetrates the skin, relaxing muscles and improves blood flow.
Restore
Start moving freely again and get back to doing the things you love and enjoy.
Repeat
The portable design means pain relief is always at hand whenever you need it.