Say goodbye to knee pain for good, with the MOVE+ Pro
Join the thousands of people who have used the MOVE+ to radically relieve their knee pain symptoms. Harness the power of red light and infrared to reduce inflammation, alleviate pain and stimulate healing of affected tissues.
Reduce Pain Now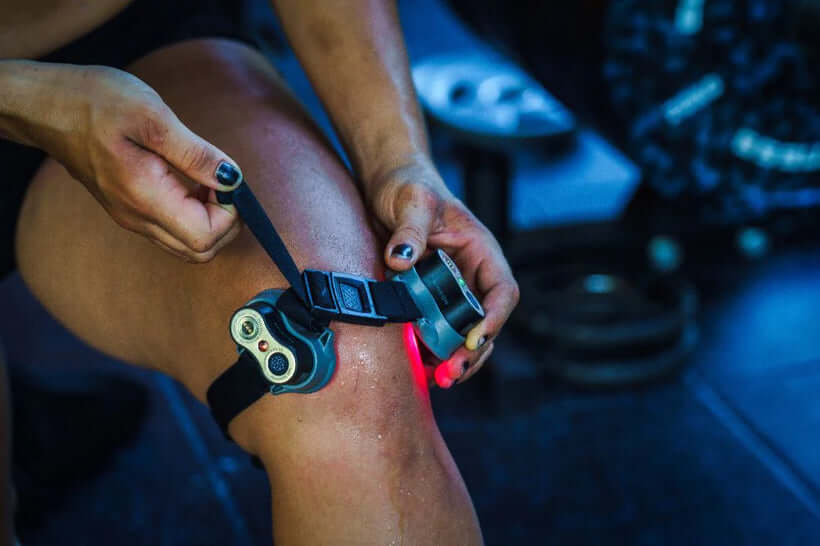 Because knee pain simply sucks
Which is one reason why we built the MOVE+ Pro, a transformational laser therapy device which improves recovery & rehabilitation.
Chronic Pain & Inflammation
Light therapy can help alleviate acute and chronic pain associated with various injuries and conditions by reducing inflammation and promoting tissue repair.
Cartilage regrowth
One of the primary drivers of cartilage loss is synovial inflammation. Red light therapy can substantially reduce this inflammation to allow for the regrowth of cartilage.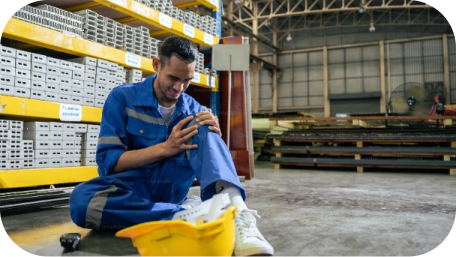 MCL/ACL injuries
MCL and ACL tears are common in active indivdiuals. Light therapy can speed up recovery by reducing inflammation and promoting tissue repair.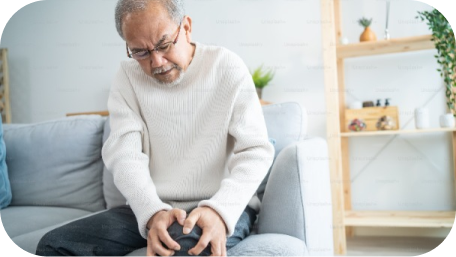 Arthritis
Light therapy has been shown to improve joint function and reduce pain in individuals with osteoarthritis and rheumatoid arthritis, by reducing inflammation and promoting cartilage repair.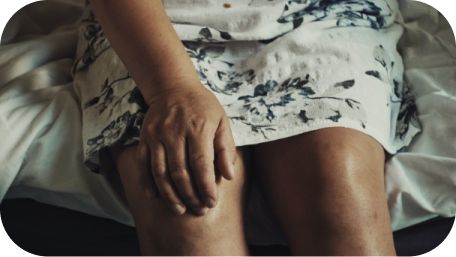 After knee surgery
Light therapy has been shown in clinical trials to provide a significant reduction in pain and a faster recovery time post-surgery. It does this by reducing inflammation and triggering tissue healing and regrowth in the area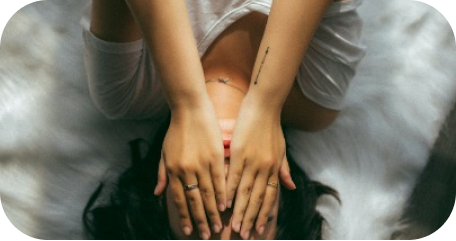 SCIENCE
Science Behind The MOVE+
Our red light therapy devices are based on the latest advancements in Science, read all about them here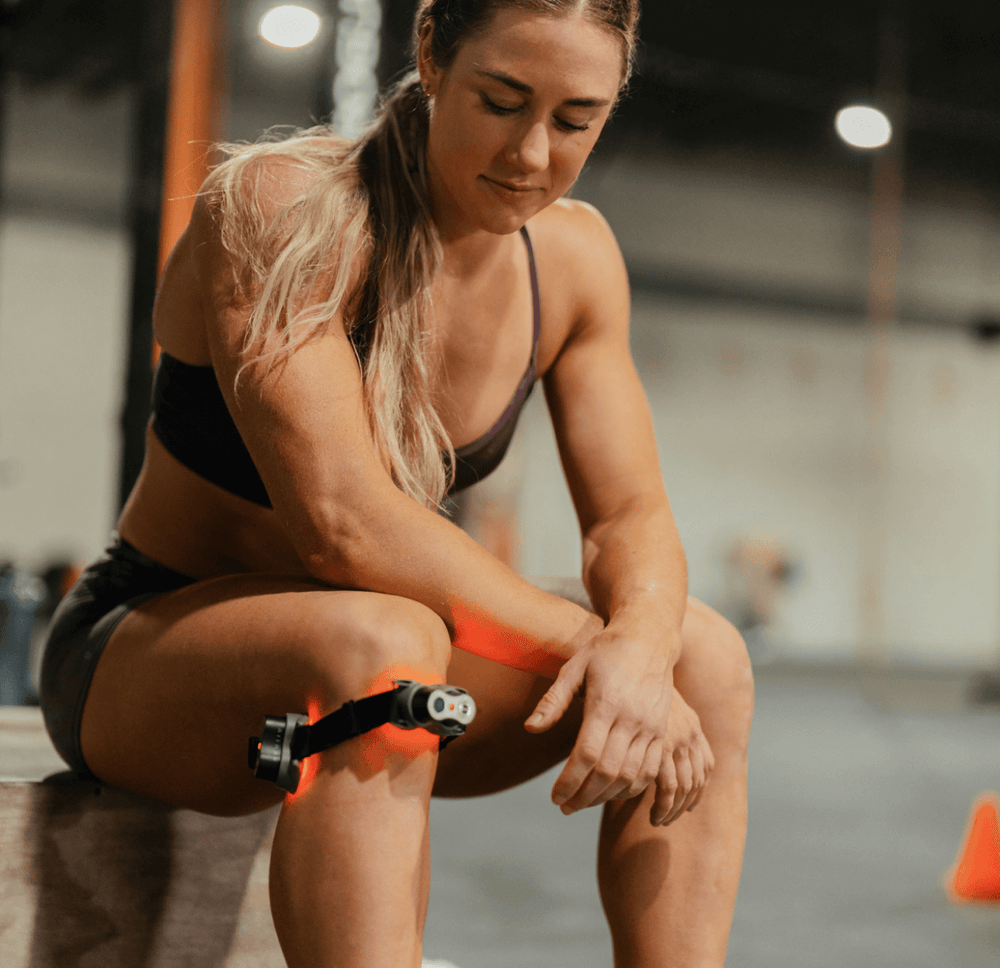 BLOOD VESSEL & CARTILAGE
Support recovery of damaged blood vessels and cartilage.
Studies have shown that red light therapy can support the recovery of damaged blood vessels and cartilage by:
increasing cellular energy production
promoting collagen synthesis
reducing inflammation in the affected tissues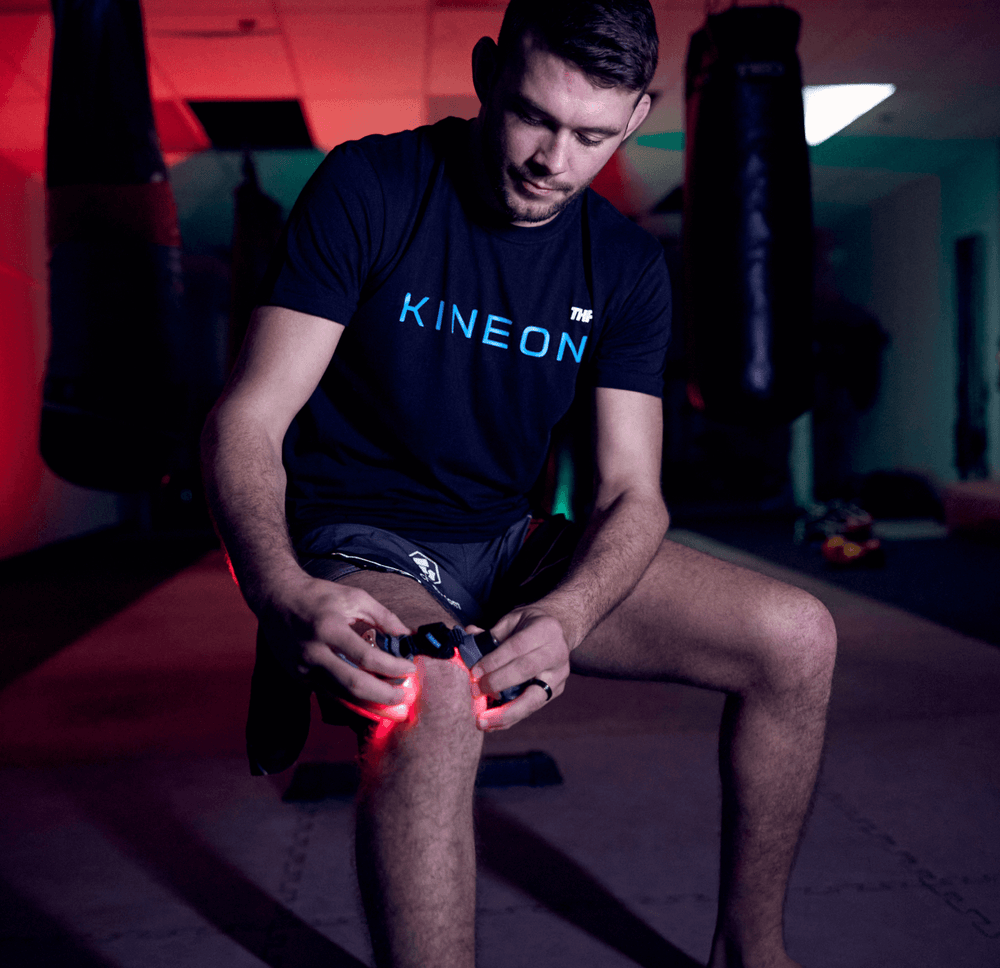 INFLAMMATION
Reduce inflammation and joint pain
Research has demonstrated that Kineon Move+ Pro's red light therapy can help reduce inflammation and joint pain by:
increasing blood flow
promoting cellular repair
reducing oxidative stress in the affected tissues
This results in improved joint function and reduced discomfort.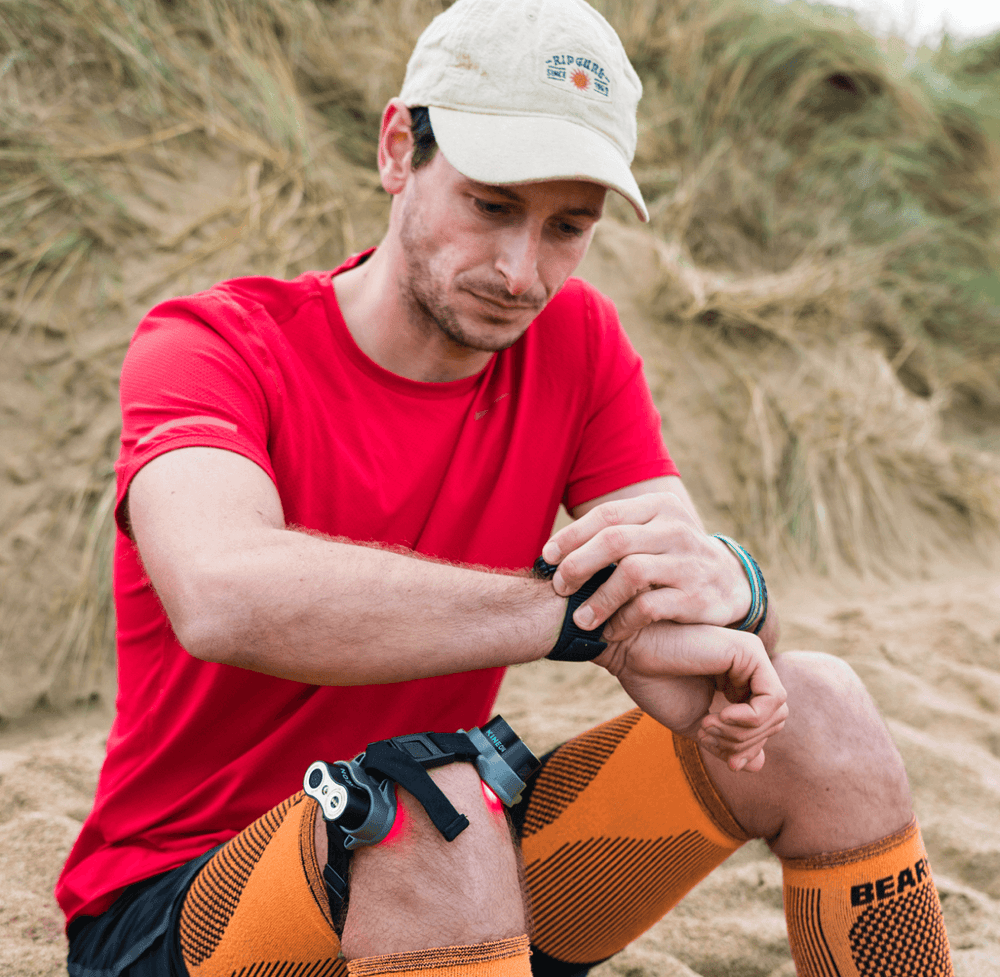 ENDURANCE
Reduce inflammation and joint pain
Studies have suggested that Kineon Move+ Pro's targeted vibration therapy can help boost strength and endurance by:
increasing muscle activation and recruitment
improving neuromuscular coordination
enhancing blood flow and oxygen delivery to the muscles
The means improved performance and reduced risk of injury.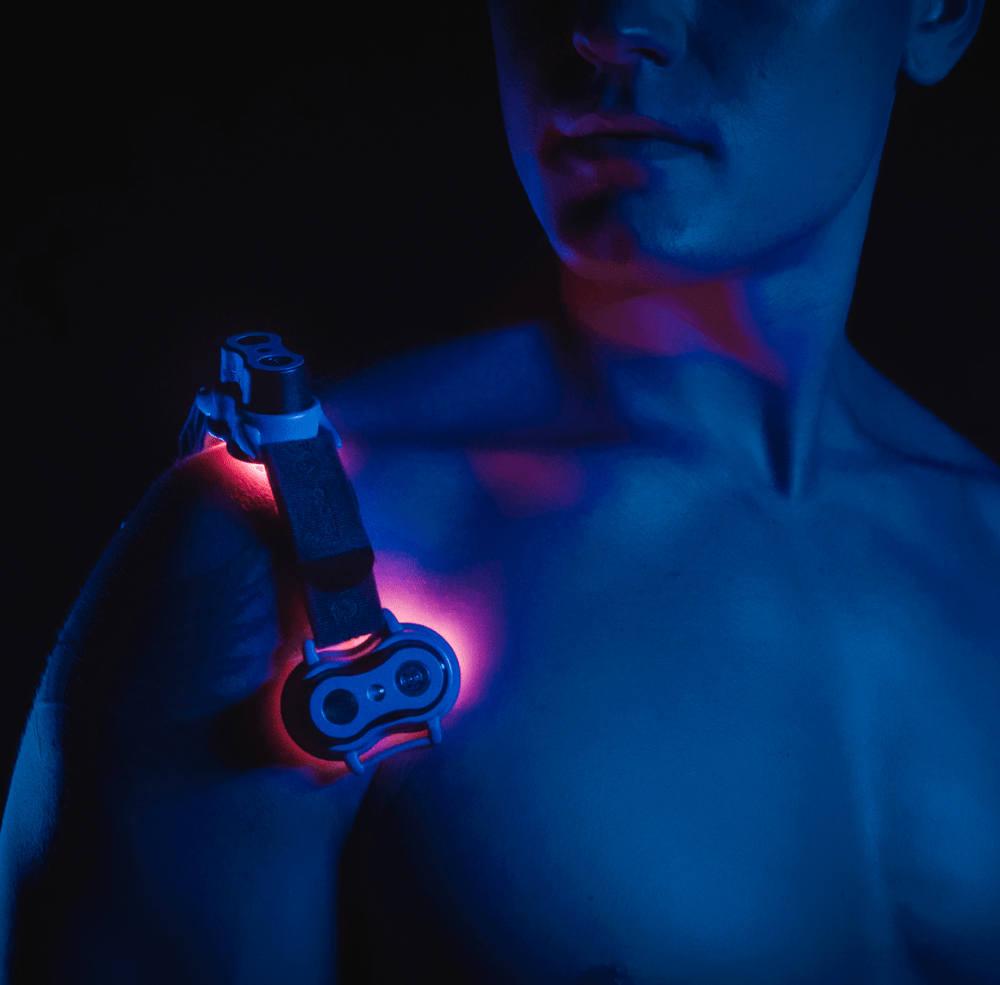 USABILITY
Effective on any body part (shoulder, knee, elbow, ankle, wrist, hip, back)
Kineon Move+ Pro's red light therapy and targeted vibration therapy can be effective on any body part by:
promoting cellular repair
improving blood flow and oxygen delivery
reducing inflammation
increasing muscle activation and recruitment
From this you will see improved function, reduced discomfort, and enhanced overall well-being.
THE PROCESS
Reduce Pain In Your First 15 Minute Session
Prepare the device
Ensure that the Kineon Move+ Pro is fully charged or connected to a power source. Familiarize yourself with the device's controls and instructions provided in the user manual
Position the joint
Bring the strap around the affected joint. Position the joint so that it is comfortably exposed and within reach of the device. Secure the buckle and adjust the strap to fit.
Apply and secure
Make sure the red light panel, which emits therapeutic light, is in direct contact with the skin. Secure the device in place using any straps, bands, or attachments provided with the device. The goal is to ensure proper and consistent contact.
Activate and follow recommended therapy time
Start with the recommended therapy time specified in the user manual or as suggested by your healthcare professional. Remain still and relaxed during the therapy session, allowing the device to emit red light therapy to the joint area.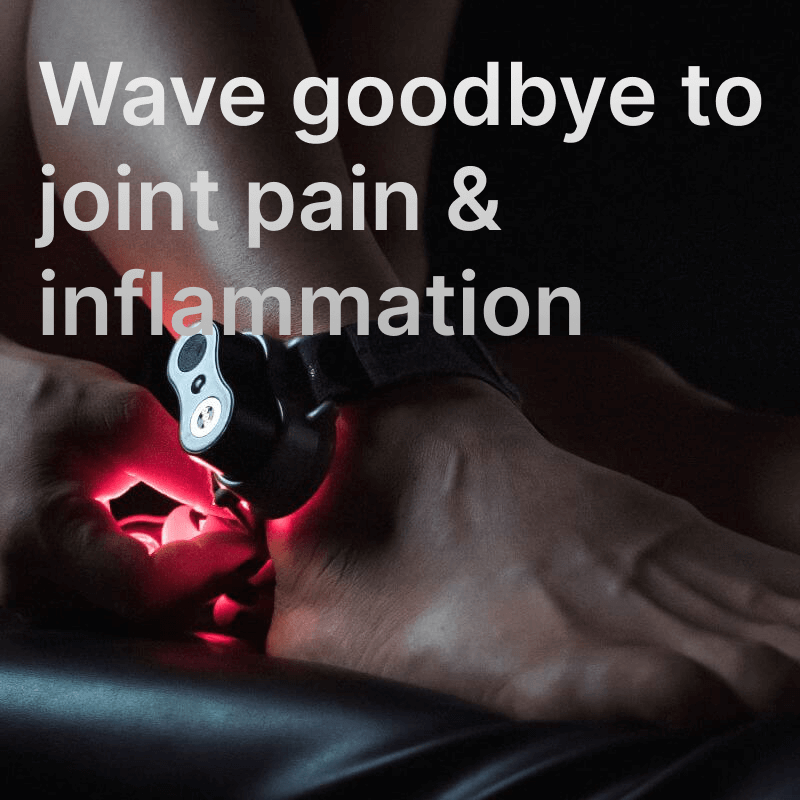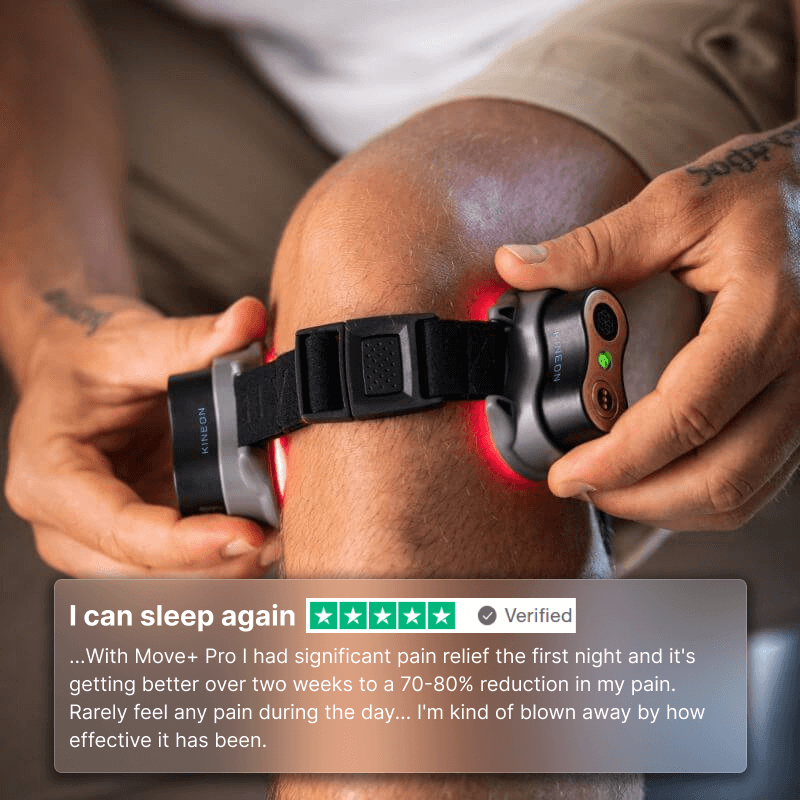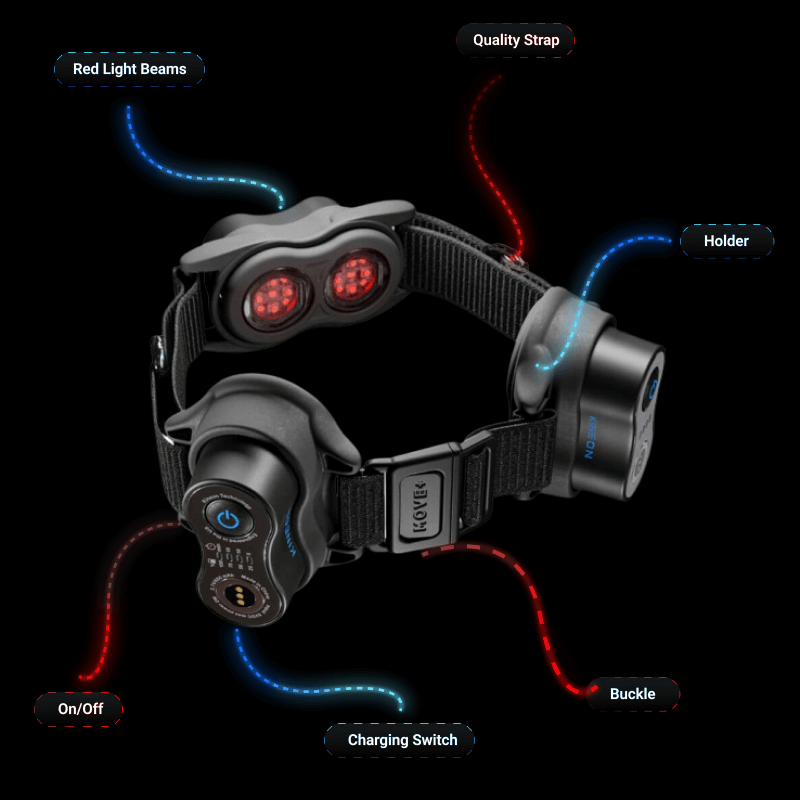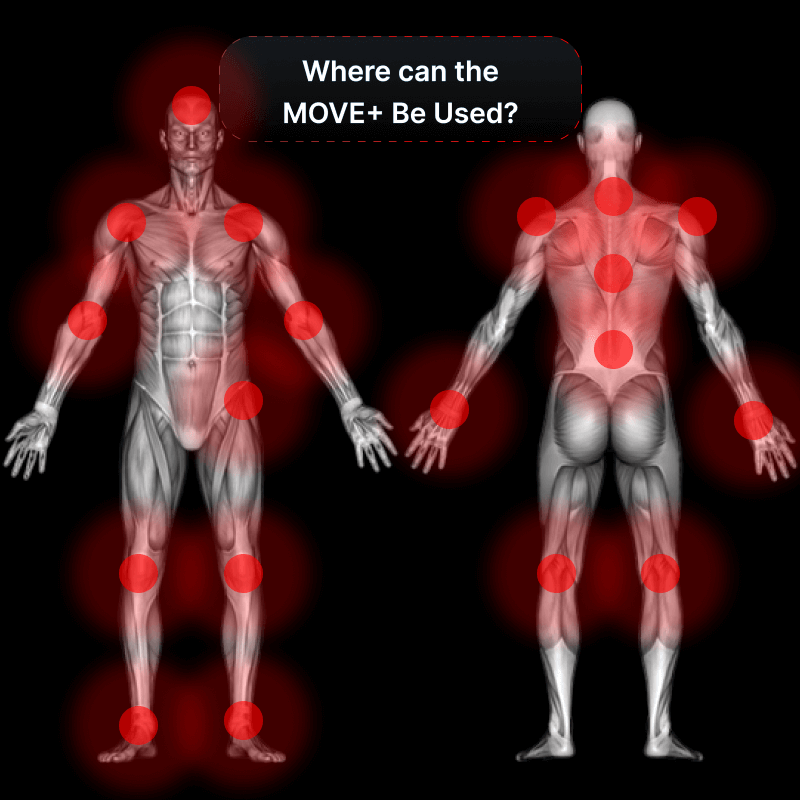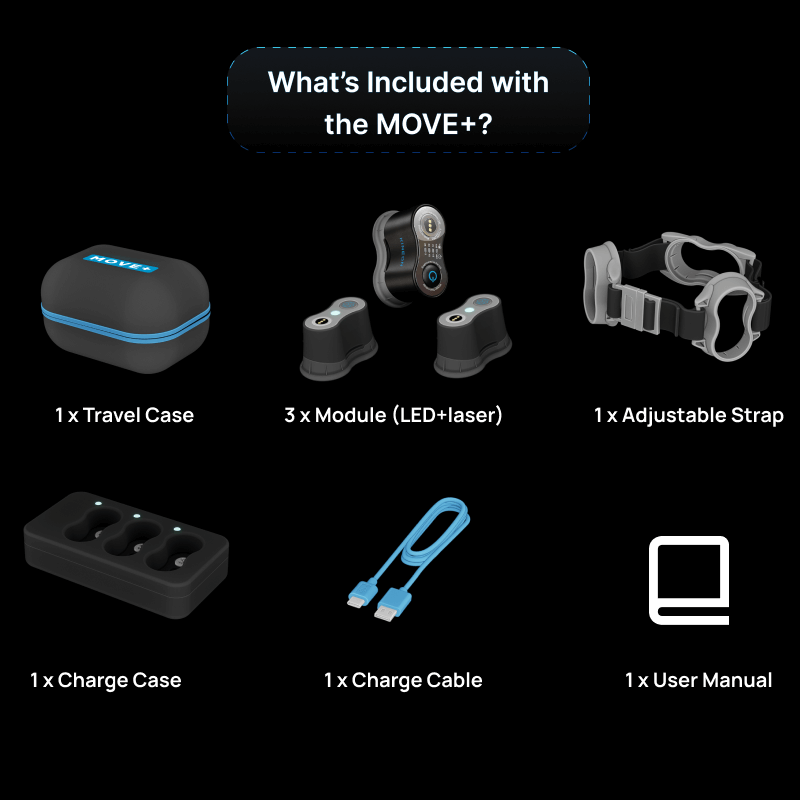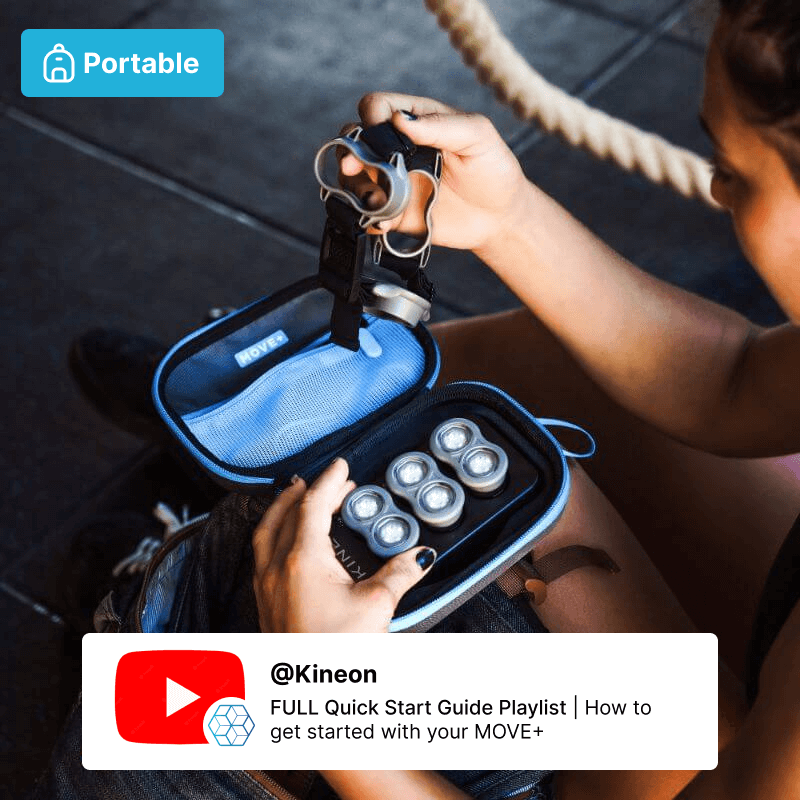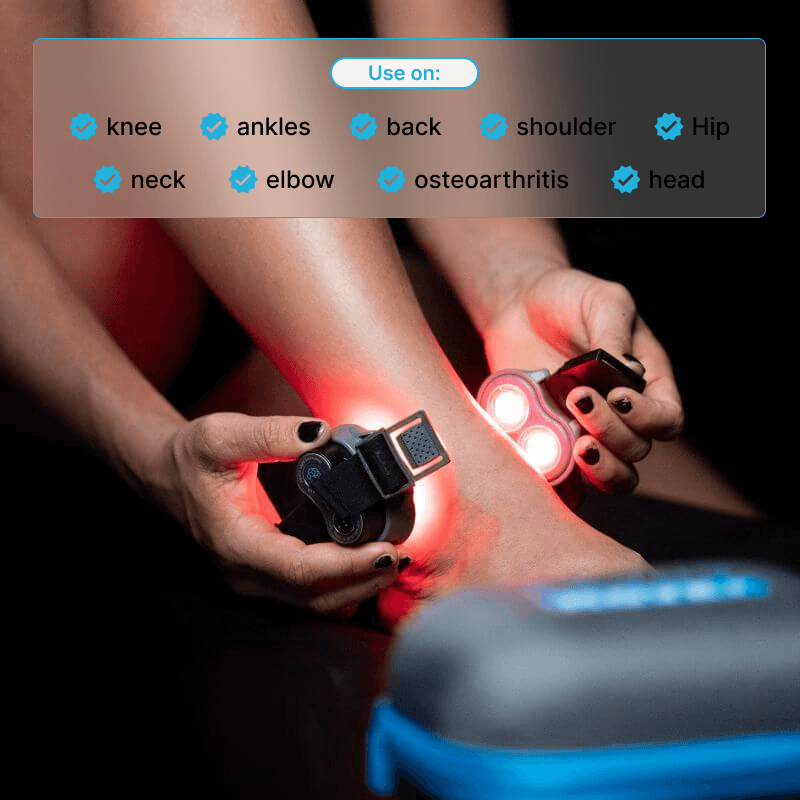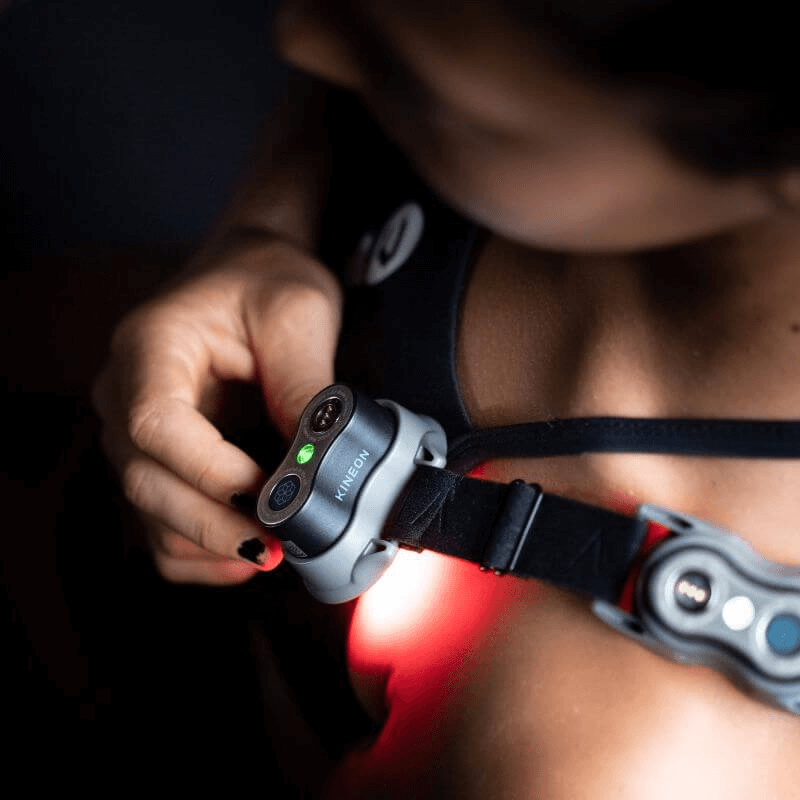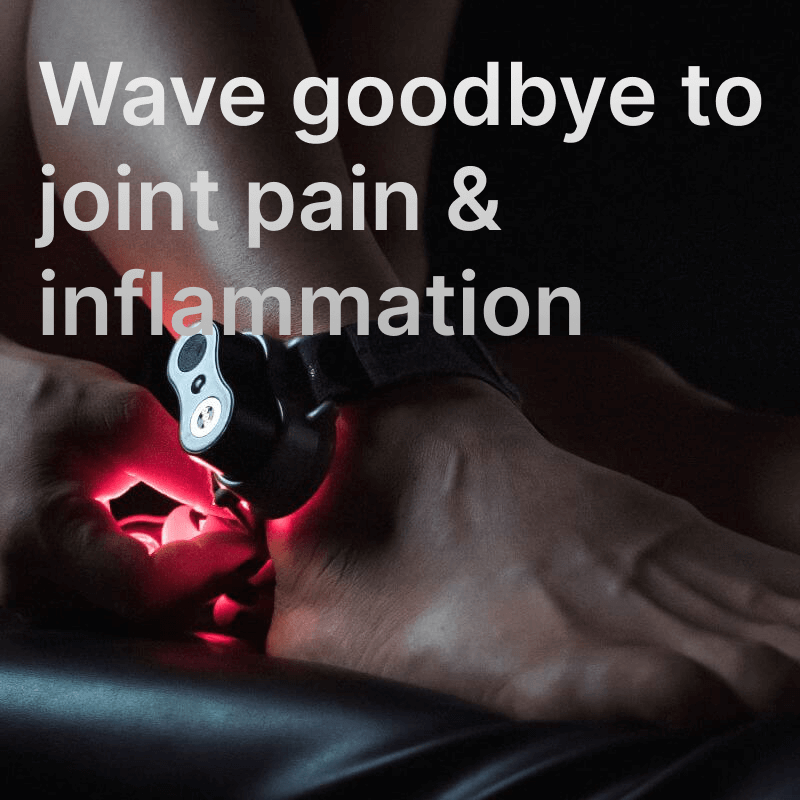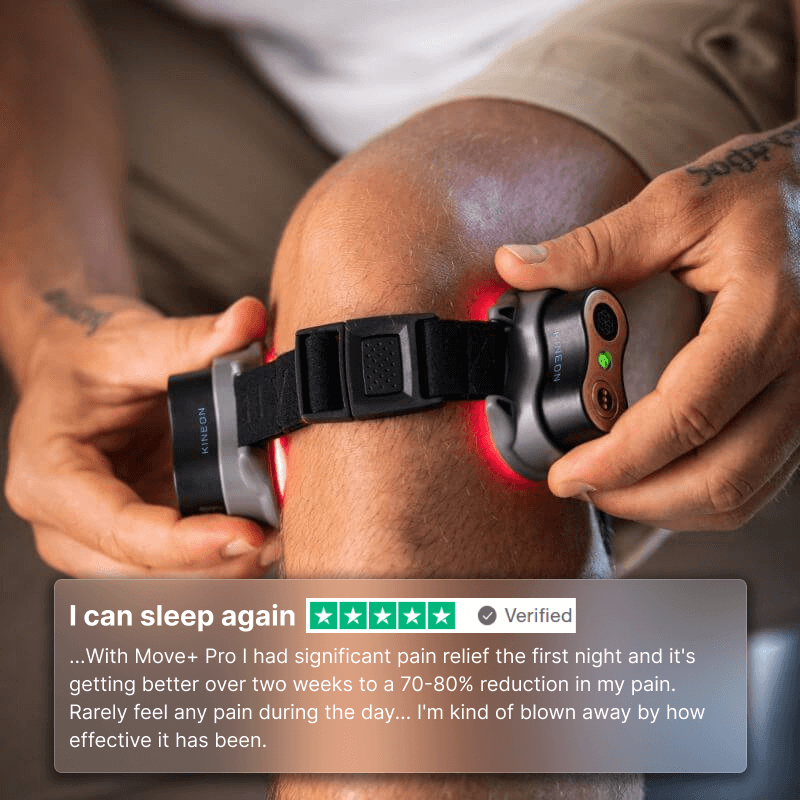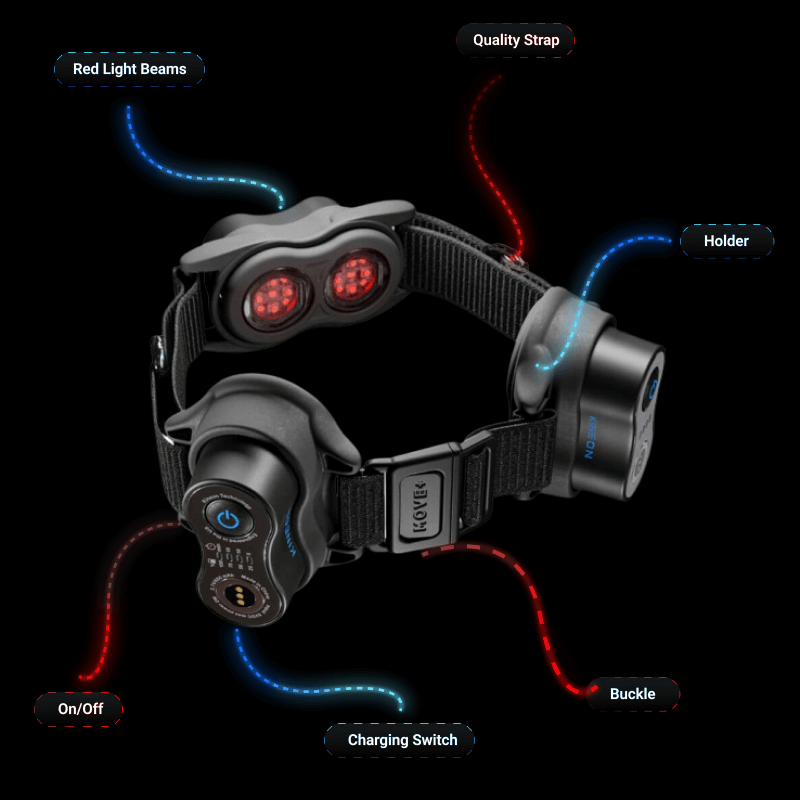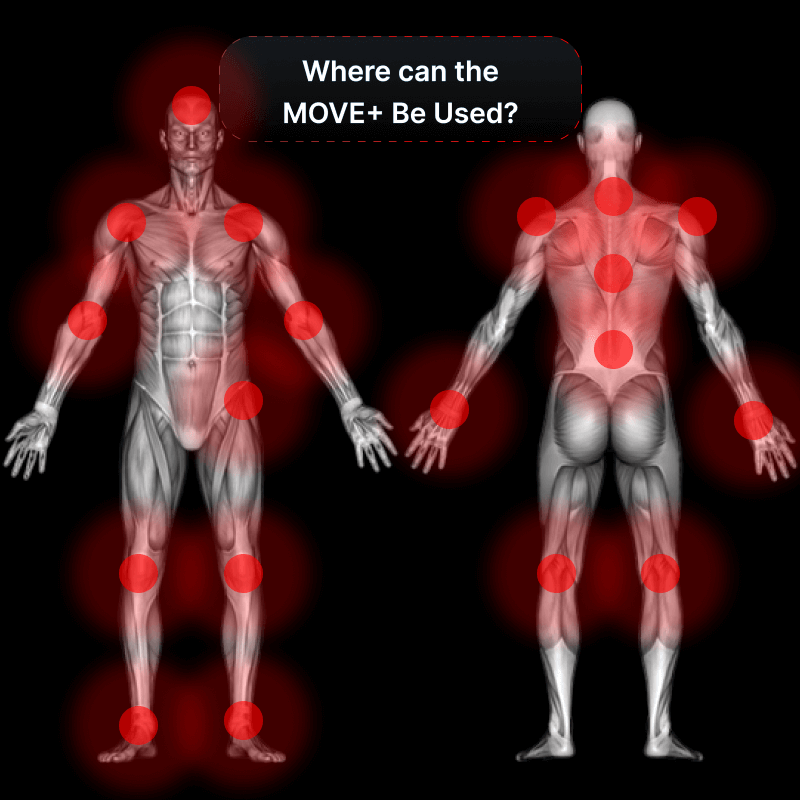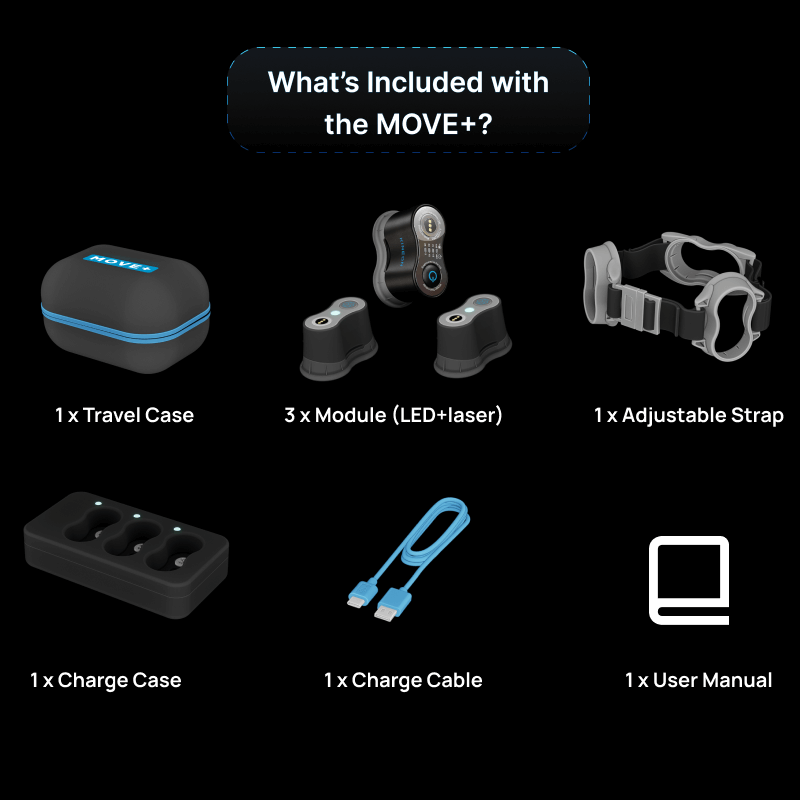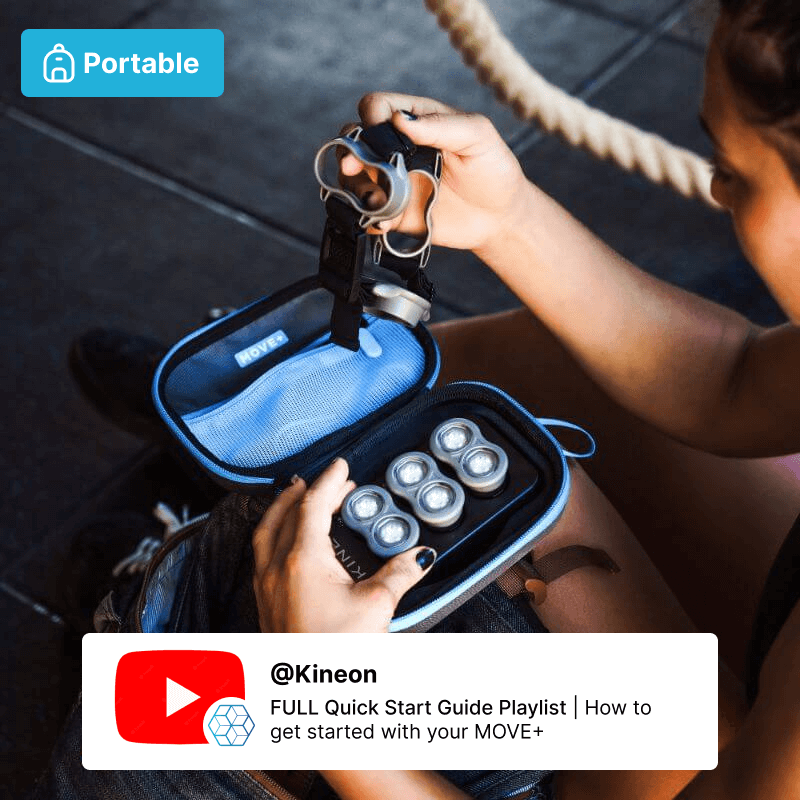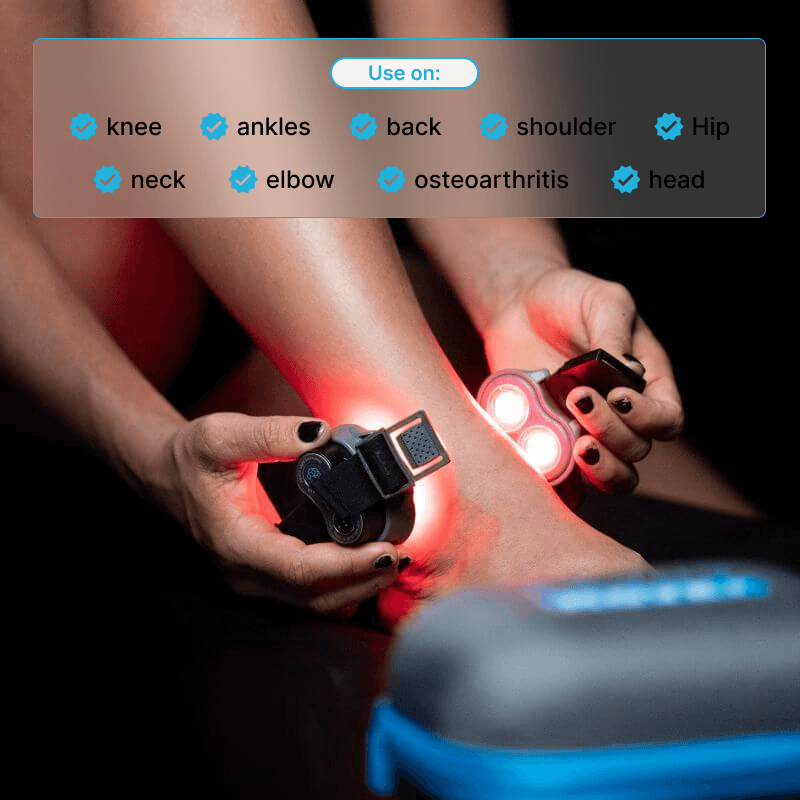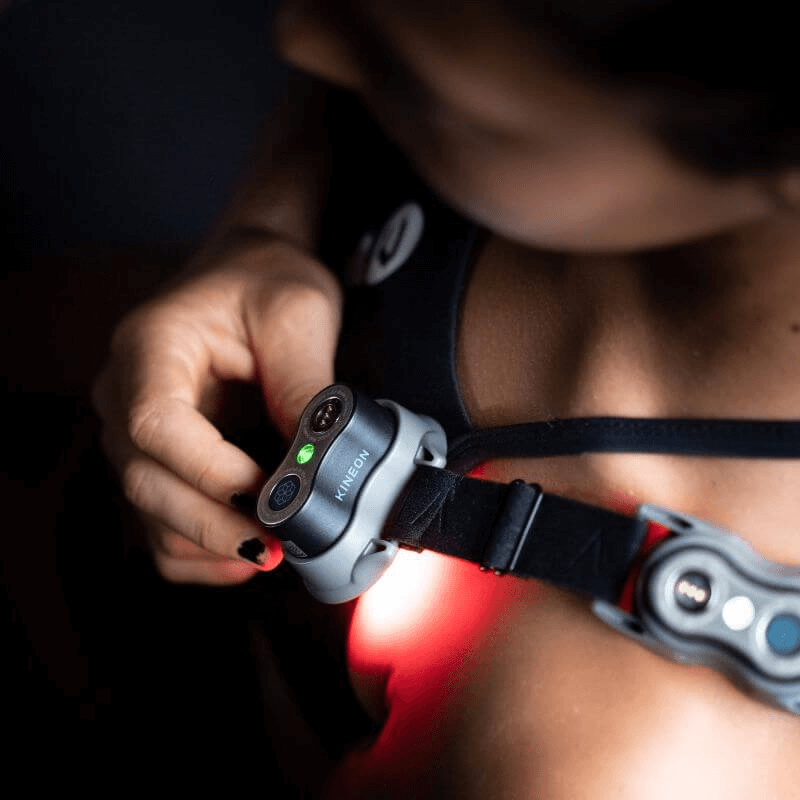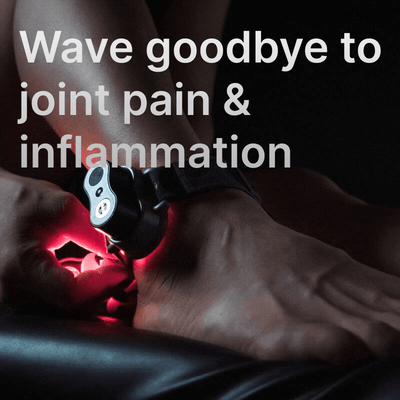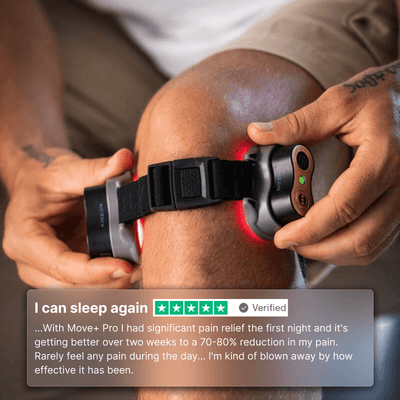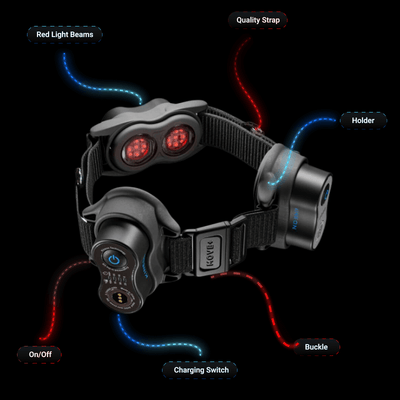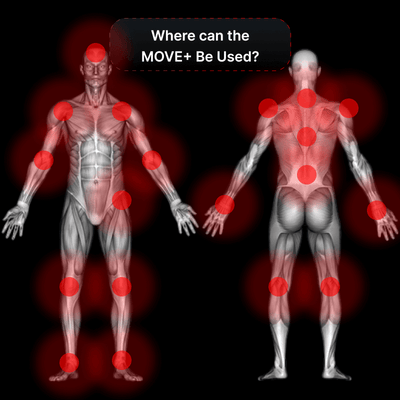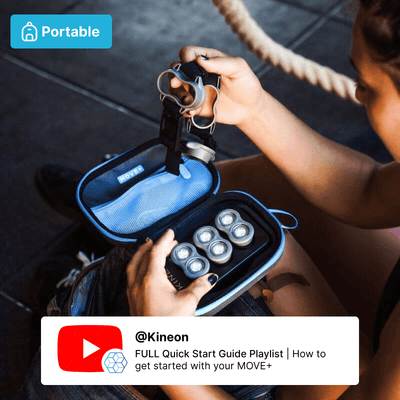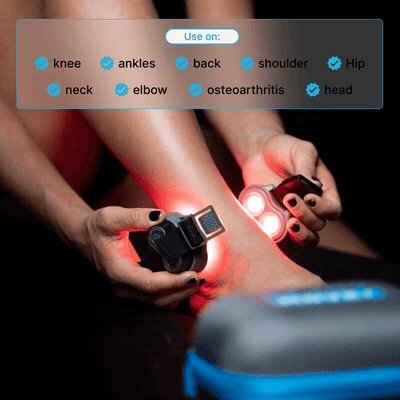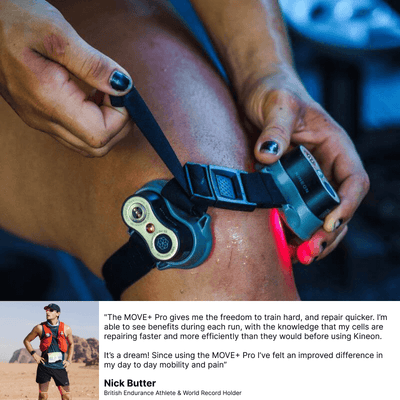 Do you ship worldwide? And how long does shipping take?
Yes! For the United States it typically takes 2-5 (and a little longer for Canada).

 For the Rest of World it can take 8-14 days depending on location (including Europe & the UK). That will shorten as we hold stock in EU/UK
What's your 30-day free trial policy?
If you're not completely satisfied with the results after 30 days of continuous treatment, we will offer you a refund or further guidance.

All we ask is that you use the MOVE+ Pro 3-5 times per week for 5-15 minutes per day over 4 weeks. If there is still no improvement, we will provide you with a refund.
Red light therapy works by stimulating blood flow and energy production (ATP) in the cells of the targeted area.

This reduces pain and inflammation, and triggers the healing process to help damaged tissues repair themselves.

The main difference between the MOVE+ and other red light therapy panels are that the MOVE+ uses lasers to penetrate deeper into the joint, with accurate dosing to achieve more effective results.
Here are some of the tech specs of the MOVE+:

WAVELENGTH
8 x 650nm deep red LEDs per module
10 x 808nm Infrared lasers per module

OPTICAL POWER
Infrared lasers (class 1): 5mW per laser diode, 50mW per module
Deep red LEDs: 80mW per emission area

Read more on our technical specs page.
Is this device backed by science?
The clinical research has exploded over the last 5 years, with over 6,000 scientific studies showing the positive impact of using PBM (red light therapy).
How is it different to other devices?
It's crucial to ensure the correct light characteristics to optimize results.

The technology of the MOVE+ has been based off hundreds of successful clinical trials to ensure only the most effective wavelengths, dosage and components are used.

The use of both LED lights and medical-grade laser technology can offer targeted relief to your joints by increasing blood flow and energy production (ATP) in the cells of the targeted area.

This reduces pain and inflammation, and triggers the healing process to help damaged tissues repair themselves.
How long does a treatment take?
We recommend using the device for 5 - 15 minutes per day for optimal results, depending on the issue being treated.

Consistency is key with this. So doing a short treatment every day will be more effective than doing longer sessions more sporadically.
Can I use this on any part of my body?
The MOVE+ Pro can be used on any part of the body and we are currently designing more strap options to target those hard to reach places.
What kind of pain can the MOVE+ help with?
The MOVE+ can help treat a huge variety of acute and chronic issues.

Laser therapy has proven results for...

Osteoarthritis
Rheumatoid arthritis⁠
Chronic pain
Inflammation
Cartilage damage
Wound healing/recovery
Acute injuries (MCL, ACL)
Tendinitis⁠
Carpal tunnel
Fibromyalgia
Osgood Schlatter Gout
Tennis/golfer's elbow
Recovery after surgery
Anxiety & depression
Gut issues⁠ and much more...
Frequently Asked Questions
Have you got questions about the MOVE+ Pro? We've got answers!
VERSATILITY
Improve Recovery in your knee
Trusted by thousands worldwide, the MOVE+ Pro is the ultimate recovery tool that helps people bounce back faster. Read our case studies here:
Knee

Back

Elbow General Pain

Hand / Arm / Shoulder Hip Arthritis

Foot
I'm currently using the laser for my severe arthritis & I can attest to its effectiveness for pain relief.
It's very useful to treat my knees & severe neck pain.
I've been using my Move+ religiously on my elbows and shoulders for about 4-5 months now.
I'm 58 years old and still am a avid bodybuilder/strength trainer and had developed osteoarthritis in those
areas, as well as reduced cartilage with tendon and ligament issues. I am now virtually pain free in those areas. My shoulders and elbows have undergone a remarkable recovery.
The MOVE+ has eased my pain in many situations. Besides Ehlers Danlos Syndrome, I have severe bilateral osteoarthritis, bilateral carpal tunnel and I HAD a mucus cyst. Then it completely healed. (My hand surgeon was amazed by this.)
It has brought my hand pain levels from the standard 6-7 to a lovely 3-4.
I recently used this product after getting Achilles tendinitis during a marathon. It was super easy to use just 15 minutes 2x a day just putting it on the effected area. It has been literally 3 weeks and I have no more pain. I went to the chiropractor and he said it was looking so good that I only needed to not run for month rather than a year and can still do strength work. So happy! Highly recommend!
My knee and elbow. The difference is my knee has been crazy. I've done 2x 5km runs since starting using it 10 days ago. I was dubious, but thought it was worth a go.
I have used the unit for 5 days now and I must say that the result is astonishing.

Early in March I had a Cortisone and Hyaluronic acid injection in my right knee.
The surgeon, who cleaned the Meniscus 3 years ago said to me that sadly this is what I have to live with.
I regularly receive updates about the Kineon Move+ and then I thought what the heck!
After 6 days of diligently using the unit, both my right knee and my left arm are pain free.
l am now working on my left knee's Osgood-Schlatter, a souvenir from when I was 11 years old, and I have already felt an improvement.

My plans to return to the Vet Tour are now becoming reality and I thank you very much again for giving me the opportunity to finally try the Kineon Move+
I have a pair of Kineon Move + that I use on a daily basis. I have "theatregoer's knee", where I get knee pain if I sit with
bent knees for too long - and the Move+ makes a massive difference to that. It's also been good for helping with more
acute pain like muscle strains. The first time I used it, I was stunned to realise that I'd sat with my laptop on my knee for an hour with no pain.
Wanted to wait until I hit the 4 week/1 month mark to give you an update on the Kineon Knee+. And today marks 30 days since I started.
Routine is done twice daily, morning and night.
I've had less pain and better knee function using this for 4 weeks than I have in 5 months of doing what my doctor told me to do (which is to sit, take glucosamine, and hope it gets better).
I used to fear going up and down stairs. In the last week, I go up and down stairs without even thinking about it.
I used to have pain that would make me think twice of getting up to go to the bathroom or get some water. That's been reduced to a couple minutes a day of discomfort and maybe a twinge or two pain.
I used to dread any time I'd have to be on my feet for a while or do any walking. Last week, I went on a date which involved a fair bit of walking and my knees feel completely fine.

I used to feel like I was basically gonna have to make peace with being somewhat "crippled" for the rest of my life by this.
In conclusion, you are awesome. Thank you for this.
So here I am, exactly 2 weeks past my total knee replacement (left knee this time). Staples (all 29 of them!) were removed Monday and yesterday I did my first post surgical laser treatment. Results:
- Immediate reduction in pain.
- I've discarded my walker and have graduated to a
cane.
- I got the best night's sleep. since my procedure last
night.
- I have better range of motion this morning.
All I can say is thank you!
Helped greatly with my knees and ankles, shoulders and SI joint. "Bit difficult to maneuver with that, but managed non the less
1 am trying the Move+ few more than a week, and until now my knee pain reduces significantly. The CS team is great. 100% recommended. Thanks, Kineon Labs.
I want to Thank all of you at Kineon. My wife and I have used the Move+ For several months now and it has helped tremendously with our knees. We no longer have to hobble when getting up from the table after eating or when getting out of the car.

We went to Disney World recently and we were dreading all the walking, but Thanks to Move+ for the improvement in our knees we were able to enjoy it and didn't have to take any pain medication for our knees. So Thank You
This Move+ is amazing. I received the Move+ in the mail on Thursday January 12th and began using it on Friday the 13th. I have been doing two twenty minute sessions every day on my right knee. I was so excited to begin using this that I ended up bringing it on vacation with me. Today I was able to complete a leg workout with minimal pain. Prior to using the Move+ I would have pain doing any type of lower body movement. I cannot wait to see the results after another week of use! This product has truly changed recover for me. Thank you so much.
Love this product, it has been fantastic on helping with my knee injury, pain is slowly receding already, been just over a week. I would highly recommend this product!
A year ago, pre Move+, 5 km walk would leave me limping with knee pain. Yesterday just finished 118km Camino Ingles in 6 days and arrived in Santiago de Compostela. Some small pain but no limping. Took my device with me, 15 mins in the morning, 15 mins in the evening made it all possible. Thank you again team Kineon
I bought this device for my aunt that has a bad knee. She started using it twice a day and less than a week later she was walking instead of hobbling. Even she noticed she was able to move faster and better. I 100% recommend this device whether it's for athletic use or for joint paint. Totally worth the investment
Of course, I had - besides my hopes - also some doubts if Kineon will really be helpful for me. But after months with knee pains, and restrictions in mobility, I gave it a shot. And now, after 1 week of red light therapy I did today my first CrossFit workout w/o thinking about my knee or being limited in my performance due to pain. Really amazing! One of my best investments ever!
Since my 2nd knee operation over 15yrs ago i have had pseudo-locked knee, in which a defensive reaction impedes knee movement and i have been unable to fully straighten my knee. After just three weeks of using the Kinion Move + i have full range of movement and my kness feels more stable and the strongest it been post-op. Thanks to all the team for the creation of this amazing tech.
Move+ user and fellow meniscus tear and chondromalacia sufferer here. Lots of home PT helped. Then I got the Kineon. The device "took the edges off" the remaining discomfort and pain, then I lost 40lbs and that took off the rest.
I no longer have any knee issue and can bound up and down stairs like a 20yo (I'm about to turn 54). Recently took a trip to France where we went to Mont Saint Michele -walked up over 900 steps to the abbey without issue. I feel like the Kineon device empowered my full recovery.
I recently had surgery to repair torn meniscus in my knee. It is very easy to use the Move + every morning and evening. After three weeks I have very little swelling and pain, especially immediately after using the Move +.
I got my Kineon and used it on my knee, it was so helpful and took the pain away. I had an employee complaining about his neck being really sore and when he was getting some Advil to help it, I recommended him to use my Kineon. He put it on for and after he was done he was amazed at how well it worked. He mentioned it in front of my husband, so now I think next time my husbands shoulder is hurting him, he will use it. He wouldn't use it before., but I think now he will.
The Move Pro+ has been a game changer for my left knee has torn meniscus on both sides and I was taking both Celebrex and Tramadol to keep the pain manageable. I started using Move+ (V1.0) when it first became available on their crowd funding site months ago. Using it made an immediate improvement and I was quickly able to stop all pain medications. Have since moved on to the new Pro model and it has several user improvements. I use the Move Pro each morning while reading the newspaper. Rarely have knee pain now.
Let the healing continue!!! Loved the convenience of the product, the fact that I could wear it while doing
other things was a bonus. Thanks guys. Injuries don't waste time and neither did you. Glad to get back to healing.
I have had amazing relief with my Kineon Move +. More impressive was their customer service team. They prioritize my request and if I could give six stars they would have it. Thank you Daphne!
Using Kineon for 2 weeks, I made sure that it really works. For 2 weeks + of usage, a really helpful gadget. Not only for me, but my family too. Thank you Kineon Team that find a way to transfer to Ukraine and for help.
Been using the Kineon+ for the past couple of months while recovering from an injury, and it has been a game changer!!!
Got my Move+ eventually, via DHL then Canada Post. Really well made. Starting to use it and it seems to help my knee (I'm 70 and injured it playing tennis.) but the most remarkable use was: I trapped my 2nd finger between a steel Jack post and a steel safe that I was moving. Really jammed the 2nd joint, it hurt quite a bit and my finger went dark blue. Could still move it so not fractured. Anyway, I clustered the 3 Kineon units around it for 5 mins twice and 10 minutes times once over the next day and a half. - It feels great already. Fully flexible without pain. All the blue bruising's just about gone (turned a bit pink) and no yellowing bruise either. I was amazed.
For 2 months, l've been using the move+ pro multiple times a day, on my knees, on my neck, on my biceps/triceps, on my tummy to go to sleep. It works brilliantly, I definitely don't feel pain after a 15min session, the battery last enough for a dozen sessions.
I take it with me when travelling as it's so light and does not take space (--> not like the flexbeam which I own as well but use less now that I have the move+). The charging dock is well designed. recommend it to my friends or colleague who suffer from articulations issues.
Thank you! I competed at semis this year and just missed out on a games spot. I've used Kineon this past season to help with a previous shoulder injury and it's been a GAME changer!
I've personally used this for 30 days on some stubborn plantar fasciitis issues. Although I was using additional therapies, | noticed significant improvement only after I started using the kineon device. It was gradually and I used it daily but it
did improve my issues.
I had been dealing with some stubborn plantar fasciitis issues for over 6 months that completely halted my ultra running training (in fact, 4 months ago I had to completely stop running). I used dozens of different therapies over the last 4 months and was slowly seeing some progress. Then, I started seeing videos about the Kineon device.
At first there were no changes, but I stuck with a 15 minute session on each ankle/heel 2x per day. After 10 days I noticed an improvement, it was a bigger jump in relief than I had experienced in the 4 months before with other methods. After 30 days the relief was so significant, I started back running again. Today I'm about 45 days in with my Kineon device and I still use it and continue to make progress. Last month I was probably at 60% and now with the Kineon I'm at 96%. I can't say that the healing was 100% attributed to the Kineon because I was doing other forms of healing however, the biggest improvements came after I implemented the device. Highly recommend, worth every penny.
Gotta say that the Move+ has been terrific with my 2 arthritic knees and has started helping with lower back.
When I have sciatica pain that extends from hip to ankle I feel a big knot on the outside of my calf. I used the Kineon laser on that area twice for 15 minutes each time. The pain has reduced significantly. I am extremely satisfied with the laser.
"I have been using the MOVE+ Pro on anything that starts to hurt. I have tendonitis and have seen huge improvements in my recovery times. For enhancing my recovery, it has been a game-changer".
Brooke Wells
Worldwide Top 10 Crossfit Athlete
"I had a tendonitis issue all throughout last year. It just wouldn't go away. Since I have been using the MOVE+ Pro, it is gone. Whether you are a high level athlete, or you want to improve your quality of life. It is worth it to me".
Emily Rolfe
5x Crossfit Games Athlete
Get back on your feet with the MOVE+ Pro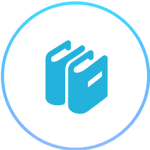 Backed by 6000+ Clinical Studies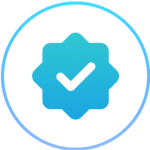 Targeted LED & Laser technology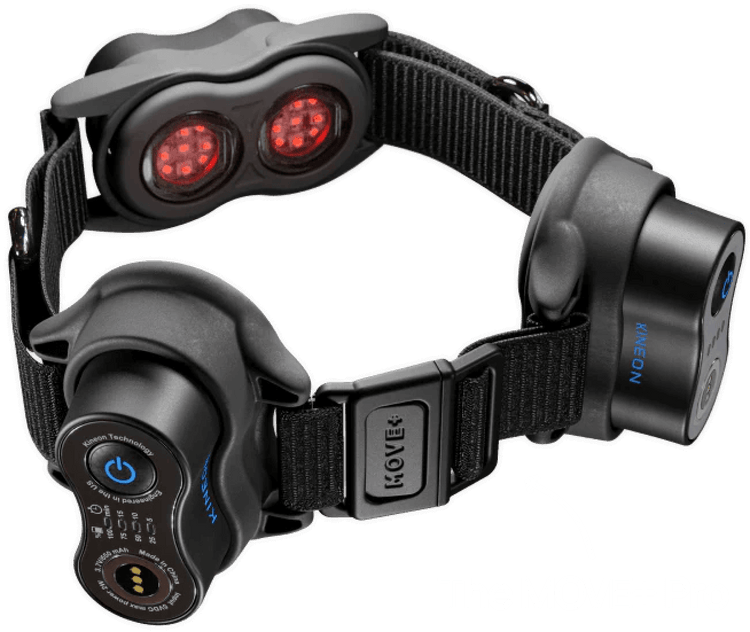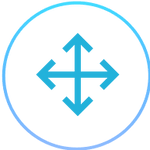 Portable and Hands Free Use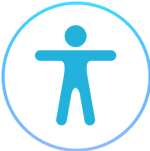 Whole Joint Coverage